Article Synopsis

Success of the construction toy had been built squarely on its ever-increasing level of playability and the constantly-evolving engineering that accompanied its development.
Playmobil introduced cute and non-offensive Construction Character figures for very young children in 1974; Lego and others soon followed suit.
Medicom introduced scary-looking robots and monsters to the category in the mid-1990īs. Since then, Licensed figures gradually came into a dominant position in the category.
Through most of its long history, the success of the construction toy had been built squarely on its ever-increasing level of playability. While many can debate the birthdate of the construction toy, few can argue that its popularity continued over the decades is due to the constantly-evolving engineering that accompanied its development.
With these advancements, children were able to build structures and vehicles with greater and greater detail. And from these child-created worlds arose the need for figures to populate them.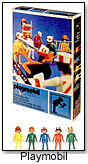 If not the first, certainly one of the biggest construction toy figure lines was started by Playmobil in 1974. Because construction toys are appropriate for very young children, Playmobil deemed that the figures to accompany them should follow suit. Unlike the contemporaneous action figures of the day, the Playmobil figure proportions and details were unabashedly cute and non-offensive. Four years later, Lego, the industry leader for construction toys and one of the top toy manufacturers in the world, introduced their Minifigure line. Like the Playmobil series, the Lego figures were simple, cute and docile.
For over two decades, the equation remained the same: generic figures to help showcase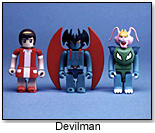 construction toy sets. It wasnīt until the mid 90s that Japanese toy company, Medicom, threw a curveball at the construction-toy-proportioned figure world with their Kubrick line. What Medicom did was make Playmobil/Minifigure-looking figures that were also character toys. However, these were not toys of just any characters. The initial two properties licensed for Kubricks were Evangelion and Devilman, two notoriously violent animated programs featuring scary-looking robots and monsters.
The formula worked. But the Kubrick series was so successful that the irony of cute-but-violent figures was soon lost. Yes, Medicom continued to make Kubricks of scary-looking characters from Mazinga Z and Battle Royale, but also picked up more child-friendly properties such as Disney and Astro Boy. The simple idea of cute character toys was so popular that other companies started to rip it off. But as Medicom couldnīt be stopped from taking the overall proportions and details from Lego and Playmobil, they in turn couldnīt stop other companies from borrowing the formula themselves.
When looking at it now, this trend is even more surprising considering that it began smack in the middle of the hyper-detail action figure arms race. While companies like McFarlane, Kaiyodo and Toy Biz were raising the bar of accuracy and articulation, it is certainly surprising that such a simplified character toy line saw the level of success that it did; that success continues to this day.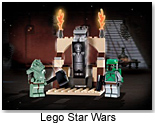 Things came full circle with Lego. The onslaught of Kubrick and Kubrick-like products was not lost on the flagship of construction toy companies. Two decades after they introduced the Minifigure, Lego signed an agreement with Lucasfilm to make character Minifigures and construction sets from the Star Wars property. There was little surprise in its success. The marriage of licensed characters and construction toys was such a natural that the real question became why hadnīt this been done before?
As to be expected, competitors of Lego immediately got on board and the trend hasnīt stopped since. A walk through a construction toy aisle will show that Lego added the A-list licenses of Harry Potter and Spider-Man.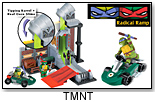 Competitor Mega Blocks (ToyDirectory)picked up the properties Teenage Mutant Ninja Turtles and Power Rangers Ninja Storm. Hasbro started the Built To Rule line, which features their popular properties G.I. Joe and Transformers. Nex released sets based on the Mech Warrior videogames.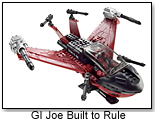 Lines featuring cute-proportioned figures themselves march on. Medicom has
acquired all kinds of licenses for Kubricks from Smurfs to Reservoir Dogs. Art Asylumīs Minimates line continues with releases from the Marvel and Lord of the Rings properties.
Although the character-construction toy synergy seems etched in stone, Lego is still hesitant. A company press release from January, 2004 said, "growth should be based on the fundamental products, where sales do not to the same extent go up and down, depending on whether or not there is a new movie this year." While there is much truth to the interconnectivity of the success of a film or TV property and the success of a corresponding toy line, there is no doubt that character construction toys are here to stay.