Click here
to find out the most recent trends in kites.
Model rocketry was developed during the "space race" era of the mid-20th century, an alternative and safer option to amateur rocket activity. The National Association of Rocketry was formed in 1957, and today it is the largest and oldest sport rocketry organization in the world, with 80,000 serious rocket modelers.
While adults turned to plastic, cardboard and wood models stuffed with single-use rocket engines, their children turned to toys.



The first toy rockets were two-stage water rockets, first manufactured in the early '60s, in which two connected rockets were shot, and water launched out of the bottom rocket would energize the top rocket to shoot even higher. But technology has improved in the last quarter of the 20th-century, as manufacturers conceive of new ways to launch their toy rockets higher and faster.

"In the past, it was always just water rockets that propelled water out of the back of the rocket with compressed air," says Steve Hanson, owner of explore4fun.com, a retailer of nature and science toys. "Chemical rockets came in the early '90s. The newest one is the Air Burst Rocket, which is just totally air-powered. That is the newest technology. It goes real high. It's really an adult toy – or not much of a toy because it goes so far and so fast."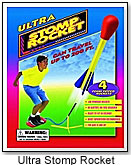 Several popular models currently on the market include D & L Company's (ToyDirectory) Junior Stomp Rocket ($15, ages 3 and up) and Ultra Stomp Rocket ($15, ages 8 and up), the latter which features the toy industry's safest nose cone, the OG-1 nose cone made of soft foam to comply with new consumer protection requirements. Both rockets launch when a user jumps on the Stomp Launch Pad, sending a swell of air which propels the rocket hundreds of feet in the air.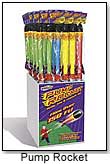 The Ultra Stomp Rocket was honored as Dr. Toy's Best Vacation Toy, Creative Child Magazine's Preferred Choice Award, and Hot Award Winner and Media Award Winner for iParenting, all in 2004.

A similar product, the Pump Rocket by Geospace (ToyShow) ($10, ages 5 and up), can reach a height of up to 200 ft. when a user pumps the handle.

A Soaring Educational Product

Rather than just a high-flying toy, several products engage the child in a novel way, encouraging scientific exploration and promoting the educational aspects of rocket flight.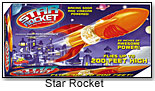 A top manufacturer of chemical rockets is Scientific Explorer, whose Meteor Rocket, Rocket Glider and, new to this year, Star Rocket, use vinegar and baking soda as a propellant to create a chemical reaction enabling lift-off. Young experimenters can test various gourmet vinegars with differing acidic percentages in the search for an optimal fuel.

"One of the things that makes these rockets so good is that the fuel comes from your kitchen cabinets, so it's non-explosive," says Bill Rives, president of Scientific Explorer. "[The chemicals] make these rockets really go up, almost 300 feet. It's extraordinary."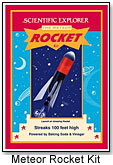 While the rockets are, first and foremost, toys, they are educational in nature, and very popular among science teachers looking to teach basics laws of physics and involve their students in an engaging project.
"You can go out and have a whole lot of fun or as a family have a great educational experience where kids learn about chemical reactions and learn something about Newton's laws of physics," says Rives.
The Air Burst Rocket
The cutting-edge rocket on the market is flame, electronic, battery and explosive-free. The Air Burst Rocket by Mondo Tronics can launch up to 1,000 feet in the air. A technology based on the sudden force released by a popping balloon enables the rockets to be launched at five different power levels to altitudes beyond sight, and higher than any other non-combustion rockets on earth.

Just a few pumps from any stand-up bike pump builds up pressure in the launcher until the special "booster disk" ruptures, releasing the air pressure in a microsecond and accelerating the rocket skyward. Combining the white (thin) and red (thick) booster disks in various combinations gives greater power levels and higher flights. The rockets are sold with 60 disks (30 of each), and each costs just pennies per flight, not dollars per engine.

The product's Web site promotes scientific exploration by featuring a Project Ideas section, which suggests creating a launch speed indicator to measure the launch of the rocket and a flying video camera to record the product in flight.