This season, kids will have more reason than ever before to venture outdoors. Whether they head to the backyard, local pool or distant mountains, they'll have good reason to run and play. Even adults can get in on the fun.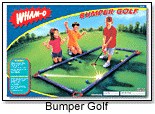 Wham-O, Inc. has many intriguing products available, including Bumper Golf™. This pool table and golf course in one has players putting outdoor pool balls into the four corner pockets of a bumper-ringed rectangle that can be placed on a backyard lawn. Players use the bumpers to angle winning shots, the same way they would in billiards.



Acting as a sidekick to other sports toys, the Squeeze Breeze Water Misting Fan by O2-Cool (ToyDirectory) is a 2-in-1 water misting fan that shoots water while fanning the user with the handheld mister. It's great for cooling down with after performing outdoor sports. This product features a comfortable hand strap and a more ergonomic design than earlier models. And, for the first time, Squeeze Breeze Water Misting Fans will be made in a combination of colors – lemon yellow, fuchsia, blueberry and lime green.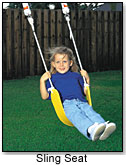 O2-Cool also introduces the Backpack Ready Keychain Misting Fan. This smaller version fits easily into a child's hand and will be launched in three cool translucent colors (blue, green and hot pink) with matching metal carabiner clips.

Great for ages 3 to 8, the Sling Seat Complete with Bounce Adapters by Spring Swings & More works with the best bounce for children weighing 30-70 pounds, and is safety tested to hold up to 600 pounds. This swing allows children to bounce up and down as they swing, creating a unique experience. The swing can be easily secured to any adequate tree limb or swing set support beam. It comes with all necessary components, while connecting to a tree limb will require additional rope.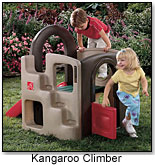 The Step2 Company's Kangaroo Climber ($90.00 to $110.00) is a toddler-friendly outdoor jungle gym in natural colors that can hold children up to a weight of 60 pounds. With dimensions of 42" tall, 54" long, and 36" wide, this multi-purpose toddler activity gym offers climbing over exterior step-up walls; crawling through a tunnel; hiding behind a Dutch door and archway, and sliding down a small slide.

Spokey Dokes by Maui Toys allows kids to add style to their bikes. This silver spinning mechanism fits over the center of a bicycle wheel creating a cool spinning effect when cyclists ride. Each Spokey Dokes kit comes with a variety of attachment sizes to accommodate many models of bicycles.

Another unique twist on an old classic is the new Water Dart Set ($24.99) from Zocker Toys. This clever water toy allows players to shoot water resistant soft foam darts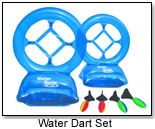 through inflatable, floating targets. The set comes with four foam darts and two inflatable rings that sit above the water and have removable targets in the middle of the rings for multiple modes of game play, as well as for varying difficulty. Players can set up targets, use the rings as goals, or play inline target games. The Water Darts can even be used on land, by setting up the targets on lawns, picnic tables, or beaches. Filling up the bottom ballast tanks with water keeps the targets in the upright position at all times. Great for one or more players ages 4 and up.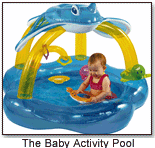 The Baby Activity Pool (MSRP $25.99) by iPlay® is another fun water toy. This inflatable pool features sunshade and includes seven attachable pool toys. While it can be filled with water or play balls, the pool is approximately 47 ¼" long by 47 ¼" wide by 33 1/5" tall when blown up. It is recommended for children ages 9 months and up.
Outdoor weather calls for celebrating. Mister Balloon's mylar balloons are two balloons in one, starting at only $7.69 a

piece. A latex-free alternative to traditional balloons, these 22" floating beauties come in a variety of adorable designs, great for special occasions or just walking in the park.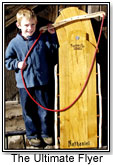 Even though winter is gone until next year, some snow still remains in the mountains. The Ultimate Flyer by Mountain Boy Sledworks is made of birch and willow. This wooden sled hearkens back to a century ago, when craftsmen made sleds by hand out of fine wood and steel. It combines beauty and strength, with hand-forged, custom-molded plastic runners, copper accents, and durable plastic for high-wear areas. While the sled complements any home, it is also made to last. Each is an individual work, designed to be passed from one generation to the next.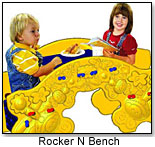 Because kids can sometimes be indecisive when it comes to enjoying time outdoors, the Playskool Rocker n Bench is a picnic table that converts into a rocker. The four seat picnic table/bench set can be flipped upside down to become a four seat seesaw-like toy so that kids can conveniently burn off their lunch calories and work up an appetite for dinner. The UV protected plastic contraption is 44" wide by 27" deep and 22" tall.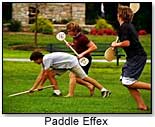 Hacky Sack has been a mainstay in low-tech fun for nigh-on 20 years now, and just when you thought no one could improve on the concept of a tiny beanbag kicked around a circle, Captain Smiley Toys (ToyDirectory) has created Paddle Effex ($34). This two-sided paddle allows one person to loft a sack from one side to the other, catching it gently ("absorbing the sack") and continuing the toss back and forth. Captain Smiley claims it only takes 10 to 15 minutes of practice to get in the groove, with increased skill allowing for tricks such as passing the sack under a leg, behind the back, adding kicks and stalls, paddle spins, etc. Two or more players can take the game to far-out levels of fun. In addition to dual-sided paddles, Captain Smiley also manufactures a half-sided paddle.

This summer, Celebriducks (ToyDirectory) is coming out with 5,000 Elvis ducks, 2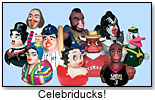 ,000 Jesus ducks and 2,000 Clinton ducks. Every special edition duck is numbered. Having created over 200 kinds of ducks thus far, they currently have 60-70 active lines. Owner Craig Wolfe says the ducks like to hang beside swimming pools and spas as well as in bathtubs. In case you were wondering, "a lot of celebrities buy them too," says Wolfe. They are coming out with a wholesale Web site this year.