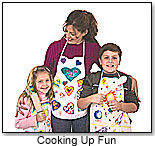 Brothers Eric and Chris Ryan were tired of the unimaginative plastic toys on the market. They decided to put their noodles together to come up with a unique concept for a toy company. So was born

Noodle Head Inc.

,(ToyShow) a company dedicated to making toys that inspire creativity and encourage kids to get out and play.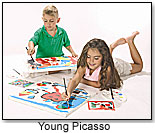 This year, Noodle Head introduces five new products to their award winning product line. Skilled at appealing to today's trendy fashion-savvy kids, Noodle Head updates classic crafts and activities and entices children with art, cooking, jewelry making and even silk painting. Colors and components are coordinated so kids can personalize a product in a short 45-60 minute time period that they will actually use and enjoy long after the activity is finished.

While crafts products are traditionally geared towards girls, Noodle Head has recently created new products that cross gender lines. Cooking up Fun includes an apron and fabric markers along with kid friendly recipe cards, and cooking utensils. Young Picasso contains artist quality canvases, paints, palette, and brushes so kids can paint and hang their own masterpieces.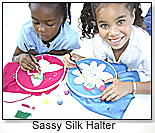 Just for girls, the Sassy Silk Halter introduces children to the art of silk painting. It includes three pre-printed designs for kids to choose from. In addition, the kit comes with a halter top, silk paints, mixing tray, paint brush and instructional booklet.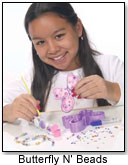 For the tween set, Noodle Head offers Butterfly 'N Beadz, a jewelry making kit and craft kit in one. Girls can string fashionable beads to make jewelry as well as decorate the lovely sculpted trinket box with paints, gems and pearls.

Noodle Head is also introducing the first of several new travel accessories for young kids. Travel Buddies are a series of plush neck pillows in cute animal designs sized to accommodate sleepy heads in cars, on planes or anywhere else.