The 2005 American International Toy Fair displayed many of the newest toys of 2005. A majority of the products highlighted by the national media were electronic in nature. Yet, traditional toys are as strong as ever. Below, TDmonthly staff has spotlighted a number of our favorite puzzles and games of 2005.
Puzzles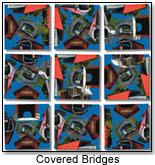 This year, b. dazzle, inc. (ToyShow) introduces 20 new Scramble Squares® puzzles that follow the same unique style as the company's previous offerings. Players need to arrange the nine similarly-decorated squares three by three in just the right order to create a uniform design. Covered Bridges is one of the newest artistic offerings.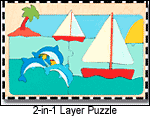 Designed by behavioral scientist Jean Westcott, these 2-in-1 Layer Puzzles and Toddler Puzzles from Pamela Drake (ToyDirectory) have large, easy-to-grip pieces and are a perfect way to help children develop motor skills and comprehend spatial relationships. The puzzles come in 11 different motifs, including Dinosaurs, Zoo Animals and Reptiles. Additionally, there are four Wiggly Eyes puzzles, which feature zoo animals in their natural habitat with – you guessed it – wiggly eyes.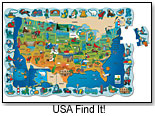 Learning Journey (ToyDirectory) adds an addition to its Find It! Floor Puzzle family with the USA Find It! Puzzle, which familiarizes children ages 5 and up with the 50 states along with historical sites, monuments, natural wonders and an assortment of famous attractions like Cape Canaveral and the Golden Gate Bridge.

Ceaco, Inc. is producing a striking holographic puzzle assortment printed on special effects paper this year. Two new assortments of Sunset GlowGlitter & Glow will be added to their tremendously successful Glow in the Dark series as well as a line of cork puzzles that "stays together without glue!" The new Scrambled States of America puzzle boasts a full color copy of Laurie Keller's popular children's book of the same name inside the box. Ceaco created the puzzle based on the tremendous success of Gamewright's Scrambled States card game.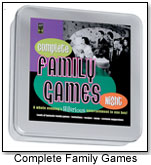 Board Games

Complete Family Games Night by Lagoon Games is a box full of games for the entire family. Containing everything from tiddlywinks to playing cards, the box promises to turn a small gathering into a party. Lagoon Games has thrown in humorous invitations, menu suggestions, easy to follow recipes and costume suggestions to enhance this night of good, old-fashioned fun.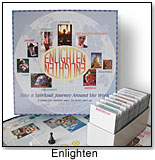 A game dedicated to fostering religious tolerance, Enlighten by Enlighten Games squares teams off as they answer questions about the six major religions and three historical/geographical categories of the world. Teams must circle the board, then enter the Enlightened Path where they identify notable quotes from religious and philosophical leaders.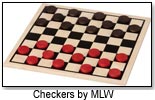 From the woodshop of Maple Landmark Woodcraft Co. (ToyDirectory) comes a 15" by 15" checkerboard of sturdy hardwood plywood with a durable lacquered finish. The checker pieces are colored in the traditional red and black and made of a lightweight composite. The board is exceptionally crafted and would make a welcome addition to any living room, bedroom or family room.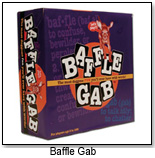 New from Word Salt Inc. (ToyDirectory) comes the game Baffle Gab, hosted by the world's wordiest dog, Baffle Gabby. Gabby gives each player five words, and he or she must add words to form a story in 60 seconds. Points are awarded for how many words a player can combine in each sentence, and players can double their score if all five words are used in a single sentence. Baffle Gab was named an iParenting Media Award Winner and one of the magazine's Best New Products in 2005.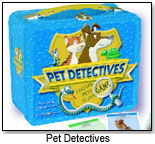 You've seen "Ace Ventura: Pet Detective." Now you can be Ace Ventura in this hair-raising new game from Morning Star Games (ToyShow). The game Pet Detective lets you be just that (a pet detective) as you race against other detectives to find the most lost pets; ask other detectives if they've seen the lost pets (with names like "Tootsie the Tortoise" or "Mr. Wigglesworth the Boston Terrier"); and match the lost and found cards for a pet, which allows you to win reward money. This game presents real pictures of animals and custom cards so you can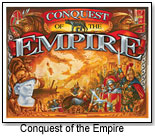 include your own pets in the game.

Eagle Games (ToyShow) goes against the trend in electronics and gets back to the basics by transforming popular computer games into board games. In 2005, the company will release three popular PC Games in board game form, including Railroad Tycoon and Pirates, both to be released in July, and Conquest of the Empires in October. The former two titles are both adaptations of PC titles produced by Sid Meier, the legendary game programmer.

Looking for the perfect activity that the entire family can enjoy time and time again? Interactive game developer b Equal has introduced a revolutionary new concept in games that lets the whole family play together while competing equally. Their award-winning Time Troopers and newest game, Show Me the Wild!, use breakthrough Dynamic Leveling to continuously and automatically adjust the questions to each player's knowledge level, so that everyone can play and anyone can win. Both games offer kids and adults a visually engaging and entertaining way to learn, while ensuring that all ages enjoy playing.

Card Games

The Young Scientists Club's products are designed by a team of Harvard graduates, scientists, educators and parents with one purpose in mind – to combine fun and fascination with quality and learning. In 2005 the company releases Sci-Ology, which consists of 48 colorful and descriptive over-sized cards filled with science facts. The cards contain 12 different scientist-specific fields, and the goal is to collect the most groups of four by using memory and strategy skills while learning the scientific facts inscribed on the cards.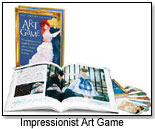 Wenda O'Reilly of Birdcage Books (ToyShow) began creating games with her children, pairing favorite card games with different periods of art and history. Her first games were published in 2000 and received numerous awards for excellence. Five years later, O'Reilly's Birdcage Press keeps on producing beautifully designed products. The Impressionist Art Game combines an interest in learning about the Impressionists with playing an exciting 32-card game. The company also sells a variety of art books, including The Renaissance Art Book, The Impressionist Art Book, and Van Gogh & Friends.

Gamewright, the award-winning Massachusetts-based game company, introduces a new card game in 2005 called Sleeping Queens, which was invented by 8-year-old Miranda Evarts of Milford, NJ. The Pancake Queen, the Ladybug Queen and 10 of their closest friends have fallen under a sleeping spell and it´s your job to wake them up. Using strategy, quick thinking and a little luck, players must wake these napping nobles from their royal slumbers. The player who wakes the most queens wins.

Dominoes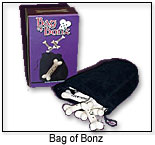 Anybody who has played dominoes has probably heard the game called "bones," and Bag of Bonz (ToyDirectory) has taken that name to a literal level by producing an actual Bag of Bonz, that are played like dominoes. The bone-shaped pieces are a unique patent-protected design and currently come in five different types of collectible custom domino sets: resin, acrylic resin, camouflage resin, ceramic and bronze.

Domino games have been played for over 3,000 years but Domination, the newest creation from Patch Products, is the game for the 21st century. In Domination, the objective is to dominate the game board by conquering and claiming the most territory.

The game board is set up with 112 spaces that match each of the included dominoes. Players match dots (pips) on their bones to spots on the board, able to play dominoes that complete squares and conquer territories. When all the dominoes have been played, the player with the most chips on the game board wins! Domination is for 2 to 4 players, ages 8 and up.

Trading Cards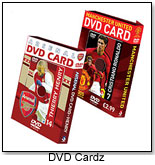 From Serious USA (ToyDirectory) come Manchester United DVD Cardz ($4.99 each) and NBA CD Cardz ($9.99 for a three-pack). PlayStation 2 and Xbox compatible, as well as working in standard DVD players and drives, each Manchester United DVD card is packed with 10 minutes of interactive video, trivia, strategy games, biographies and statistics, making this collection a historic first for the estimated 71 million Manchester United fans worldwide, including 4.45 million in the United States alone.

NBA CD Cardz, (MSRP $9.99 for a three-pack), are Win/Mac compatible, playing in standard CD-ROM trays. Loaded with video highlights, statistics, trivia and desktop goodies, fans can collect 60 ball handlers, sharpshooters and shot blockers including; Allen Iverson, Kobe Bryant and Shaquille O'Neal. Legendary sports broadcaster, Dick Stockton, has lent his voice to the cards.