You and your family are on a weekend retreat to your very own little cottage in the woods. It's evening, and pouring rain – and the television's broken. Sounds like a board game is exactly what the doctor ordered.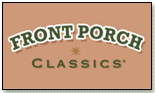 A great game to start with is Raceway 57 from Front Porch Classics (ToyDirectory), a throwback to the early days of American auto racing. The game is intended for between two and five players, and for ages 8 to adult. Players have the option of rolling the dice or picking a card to move their piece, a cast metal racecar, around the track. But wait – in order to win, you must manage valuable resources like fuel, suspension and tires. Be the first to cross the finish line and you'll receive the Raceway 57 Trophy.

Raceway 57 combines four elements common to each Front Porch Classics' game: a colorful and believable story; a visually-appealing design; an appeal to players of all ages; and a game play which permits infinite play and re-play – all qualities which will attract the entire family.

Says Tom Phillips, vice president of marketing for Front Porch Classics, "We believe true quality time is created by bringing people together through play. [Our games] are purposefully designed to engage friends and the whole family around the coffee table in laughter, sharing and building memories. In short, we call it 'unplugged family entertainment.'"

Front Porch Classics will release a trio of Party Mixers games in September of this year and three Casino Series games at the same time.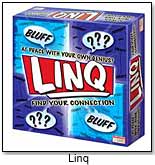 Pickel the Pirate, the brainchild of Rick Maxwell, features a colorful cast of characters, and an exciting and educational game play that caters to the grade level of each individual player. Players roll a dice and advance across the board, choosing cards and answering questions. Each square on the board is colored and corresponds to a different action. The player who reaches the green square first wins.

A clever blend of strategy, bluffing and word play, the four-to-eight player game Linq by Endless Games (ToyShow) revolves around one objective – figuring out which two players are the Linq. If you are the Linq, you must think like your partner and connect with him or her. That's the easy part. The problem is that no one knows who is Linq-ed – and you're only given two rounds of play to figure out the identity mess.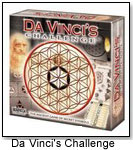 Then there is Briarpatch's Da Vinci's Challenge (ToyDirectory) game, created for players ages 8 and up. The game board features a pattern of circles which form the ancient symbol called the Flower of Life that was supposedly inscribed on pyramid walls by the Egyptians some six millennia ago. Players place simple oval- and triangle-shaped pieces on the playing board to form nine different secret symbols; the more complex the symbol, the higher the point value. Acquire the most points by the end of the game and you win.

For the Kiddies

While the older kids and adults challenge themselves with games of skill, the smaller children can delight in an assortment of games that are educational in nature.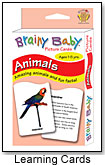 From Brainy Baby Games (ToyShow) comes Learning Cards, aimed at basic concept learning. Large, simple, colorful pictures are printed on the front of the cards, with educational descriptions on the back for basic concept learning. Learning Cards come in one of four designs: Animals, Shapes & Colors, ABC's and 123's.

The company's new Memory Game features 12 double-sided picture and number cards aimed at stimulating cognitive development through matching and concentration activities, while the 4 Game Tin – which includes Dominoes, Animal Puzzles Memory Cards and Snap Cards under one lid – is a good choice for the child (and parent) desiring variety.

Infantino's assortment of puzzles is another option for skill building and social bonding. The company releases four new puzzles this year – Peek-a-boo Animal Puzzle, Colors & Shapes Puzzle, When I Grow Up Alphabet Puzzle and Fun Sounds Nursery Rhymes Puzzle – targeted towards the younger set. Focused on basic skills like sorting, matching, and memorization, the puzzles are a valuable way to involve parents in a child's play and to get children to interact with toys through language, sight and touch.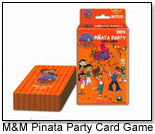 And while the adults are amusing themselves with Briarpatch's Da Vinci Challenge game, let the children play with Briarpatch's Maya and Miguel Piñata Party Card Game.

The Maya and Miguel Piñata Party Card Game, based on PBS Kids' "Maya & Miguel" cartoon, is a fast-paced card game that encourages children to learn how to count to 10 in Spanish. Children must correctly sequence the game cards until they have been exhausted. Yell "Piñata" and you win!
Travel Companions
On the way home from your weekend getaway, children will delight in Little Passenger Kids Puzzle of the United States, the newest addition to Universal Map's (ToyDirectory) Little Passenger children's travel activities series. The inside frame includes an unlabeled outline of the states to assist kids in placing the pieces.
"In addition to the fun factor of our newest children's travel activity puzzle, this is a wonderful teaching tool for home or at school," says Susan Hazzard, vice president of educational sales at Universal Map. "We are very excited to announce this addition to our Little Passenger travel activity series. We have had such a great success with the Little Passenger series that our customers have been asking for more fun, educational products and the U.S. wooden map seemed a perfect addition."
Great for family trips, or just a way to learn more about maps, the Little Passenger children's travel activity series brings geography to life with illustrated puzzles, games and more.