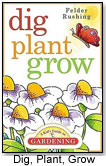 For many a lifelong gardener, the adult passion began in the early stages of life, as a child accompanying his or her parents in the home yard. Rather than just act as sidekick, children can tend their own garden with products specifically intended for the young horticulturalist.
For many children, gardening can be a lot more fun if given the right tools and instruction. Beginners can start with Felder Rushing's Dig, Plant, Grow: A Kid's Guide to Gardening from Cool Springs Press ($16.99). Along with providing a good overview of the basics of gardening, Rushing's book also includes some fun and creative projects for the outdoors.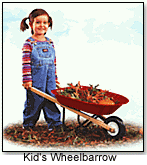 Using adult-sized tools can be frustrating for little hands. BRIO's (ToyShow) Percy the Park Keeper line features a variety of brightly colored metal tools with wooden handles, ranging from hand shovels ($4) to rakes ($8) to watering cans ($17) intended chiefly for little paws. Children can even help with the heavy work if they have a scaled down version of a parent's wheelbarrow, like that made by Radio Flyer in their signature red metal ($39, ages 1 ½ and up).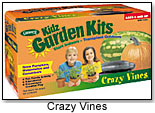 Though primarily a lawn and garden company, Dalen Products released three "everything you need" Kidz Garden Kits ($24.99, ages 6 and up) in the fall of 2003: Crazy Vines, Flower Fun and Veggie Variety. Each set includes a tool belt, trowel, gloves, seed markers, pots, seeds and soil disks. Beth Leonard, marketing communications manager for Dalen, credits the company's expansion to the kiddie sector to "interest on the part of parents to find alternatives for their kids to TV and computer games. We also felt it was important to try to start a life-long love of gardening by getting children involved at an early age."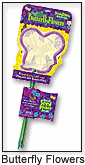 Many garden toys combine fun and learning, like Insectlore's Butterfly Flowers ($7.95, ages 4 and up) which includes flower seeds and a butterfly-shaped net for catching the butterflies the flowers attract. Additionally,their Butterfly Garden ($22.95, ages 4 and up) includes a net enclosure, special food, and coupon to send away for five larvae that children can watch transform into Painted Lady butterflies and later release into the garden.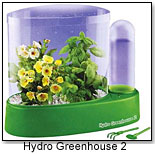 With many indoor gardening toys like Uncle Milton's tabletop, non-electric Hydro Greenhouse 2 ($29.99, ages 8 and up) that includes a year's supply of nutrient mix, retailers can create excitement by growing samples in their store. They can also help young customers extend their gardening season to last all year long.


Budding scientists can get a peek beneath the surface with the help of see-through containers in kits like Sprout and Grow Window ($14.95) by Educational Insights (ToyDirectory) or Root-Vue Farm Kit ($27.95) by HSP Nature Toys. Says Kevin Casey, vice president of business development for Educational Insights, "Toy sellers shouldn't just think spring when merchandising life science products. Many of these products are indoor biomes that can provide incredible observation and fascination even when the snow is falling outside."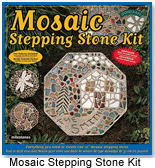 The opportunities to take art into the garden seem endless. The whole family will enjoy the Mosaic Stepping Stone Kit ($19.99) by Milestones Product Co. The kit contains enough colorful stained glass to completely cover the stone that consumers make themselves using the included octagon mold and seven pounds of stepping stone mix.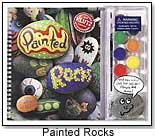 Animal lovers can celebrate their garden by painting Creativity for Kids' Toad Abode ($14.99, ages 7 and up) or Bird Bath ($24.99, all ages). Klutz also has two craft books that supply not only ideas but also the needed supplies. Painted Rocks ($14.95) has paints, brushes, and a river rock, while Squashing Flowers, Squeezing Leaves ($19.95) has a nature press and the needed supplies to preserve pressed flowers.