Old sports products get a makeover this season to attract new buyers. Manufacturers push the envelope by crafting balls that take on a slightly new form or texture, or that provide a unique 2-in-1 component.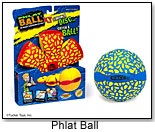 Created and manufactured by Tucker Toys, Inc., the Phlat Ball magically transforms itself in flight from a disc shape to a ball shape for the wildest catch-and-throw games imaginable. Four product styles debut in 2005.

The Phlat Ball XT is a new and improved Phlat Ball design that transforms from a 9" disc to a perfect sphere for even smoother throwing and catching. It is available in an exciting range of surface designs, colors and textures, including X-treme double-layered foam, E-Z Grip fabric and Rainbow and Space FX graphics. Each Phlat Ball XT also includes a game booklet. The Phlat Ball Jr., which transforms from a 5 ¾" disc to a perfect sphere, allows for quick flings and one-handed catches.

Additionally, Tucker Toys has made a pocket-sized Mini Phlat Ball and a Phlat Ball K9, a Phlat Ball made of durable canvas and nylon and intended for a game of fetch with one's pooch.

Since its promotional launch in Australia, this sports toy phenomenon has been successfully introduced into 12 countries across continental Europe, the U.K., South Africa, South Korea and Japan, achieving record triple digit sales growth by year-end 2004.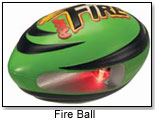 In the 2004 summer season, Phlat Ball became the No. 1 selling sports toy in Japan, France and Spain, according to Tucker Toys, and its sales are quickly escalating to equally impressive status in all of its other international markets. Phlat Ball is the recipient of a Parents' Choice Gold Award, has topped the Best Toys list of Parents Magazine and the New York Post, and has just received Japan's 2005 Good Toy Award.

Also unique is the Fire Ball by Poof-Slinky, Inc. (ToyDirectory). Coming in both polyurethane foam football ($9.99) and soccer ball ($14.99) varieties, this bright-colored line of sports balls glow in the dark, with LED lights projecting light out of each side of the ball upon impact. The balls continue to glow for a full 10 seconds after they stop moving. Unlike competing balls, whose weak glow emanates from beneath a plastic resin coating, these more durable balls shoot light outward which then coats the ball as it spins through the air.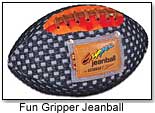 "The whole glow-in-the-dark thing has caught fire at the retail level," explains Doug Ferner, executive vice president, COO at Poof-Slinky. He reasons that while light-up balls have been popular for the past four to five years, it has only been within the past year that the cost of LED technology has become low enough for manufacturers to devote serious attention to implementing its use.

Also taking the standard ball to a new level, Fun Gripper Jeanball by Saturnian 1 Inc. (ToyShow) is made from a non-threatening grip material. This soft ball quickly absorbs water and yet is heavier than competing brands. "If they buy the football they'll buy the basketball," says President Mark Sassak. Selling to campus shops with college logos so far at 10 U.S. colleges, Saturnian 1 is spreading across the nation slowly but surely.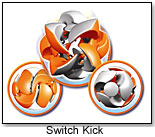 Switch Kick by Hoberman Designs, Inc. is a unique transforming foam sports ball, made for ages 4 and up, comprised of a series of panels that flip inside out when thrown or kicked, revealing a whole other color. The change in color can determine team possession or help players to create new games of their own imagination. It comes with game directions and an activity sheet, and won the Oppenheim Toy Portfolio Platinum Award in 2005. A smaller version is also available called Switch Pitch which is softball-sized and plastic instead of foam.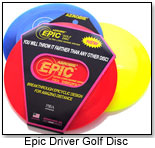 Though not a ball, Aerobie Epic Driver Golf Disc by Aerobie Inc. (ToyDirectory) is still fun to throw. The disc capitalizes on the upsurge in Frisbee golf across the country and was created expressly for throwing long distances. Weighing in at 167-169 grams, this unusual off-center epicyclic design experiences little resistance, but takes several solid throws for throwers to become comfortable with. It is available in orange, blue, yellow, and purple.