Collectible trading cards have emerged as an enormously popular toy segment within the past 10 years. As the category expands, so too does the audience.
Manufacturers are now targeting tween girls with games uniquely crafted to attract a female market. These games appeal to a girl's sense of fashion, independence and desire to gain intimacy with her friends.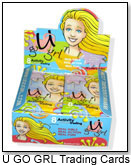 LocaSmarts (ToyShow) has done its homework to structure its U GO GRL Activity Collectible Trading Cards

U GO GRL includes rare cards called the Shimmer set, which target a girl's interest in unique cards. And, unlike boys' cards that focus on collecting competing characters that do battle, the U GO GRL cards each detail a new activity or experience that players themselves partake in. Beyond that, "We try to portray real girls. Other products for girls have exaggerated characters," James says.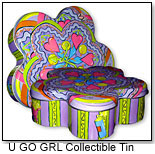 to what girls want. "It exudes girlness," claims Shirley James, president of LocaSmarts, who started the company last May with two other stay-at-home moms.
Hoping to create a community through the U GO GRL Web site, the company has included an incentive for collectors: if girls collect all 24 of the multi-ethnic characters in one of the six categories, they can use the cards to spell out a secret password that gets them onto a VIP section of the site. They can also use the site to e-mail friends messages in code and suggest new characters and activities for the next card set to be released in 18 months.

Upper Deck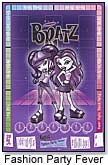 Leaders in the collectible trading card industry are taking notice. The Upper Deck Company, for one, launched the BRATZ Fashion Party Fever Game in July 2004, followed by the expansion set Flashback Fever! Collectible Fashion Packs in December 2004, and just recently by the Fabulous BRATZ Starter Tin and Booster set this past February.

In addition, the company is set to launch the first Winx Club Magical Fairy Game this May, which debuted in Europe in September 2004. Closely following the "Winx Club" cartoon on FoxBox, the game revolves around players teaming together as fairies to fight against the evil witches from the competing school. Europe will see the release of an expansion set to the game in fall of 2005, while U.S. tweens will have to wait until the following spring.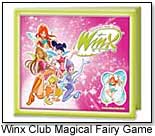 Upper Deck Product Manager Laura Waniuk explains that the designs of the girl games have had to be crafted to coincide with traditional female behaviors. "The social aspect of the collectible trading card games with boys is in a competitive fashion, whereas with the girl games, we're focusing on cooperation and socialization," says Waniuk. She adds that while boys tend to stick to the rules, girls in the test playing groups have been inclined to modify game play to their own tastes.

Challenges do accompany marketing the product to girls. One problem is that while boys are skilled at collecting cards to create a competitive deck, guaranteeing repeat purchases, girls are drawn more towards attractive cards with unusual packaging.
To help the games catch on and educate tween girls on the product, Waniuk says Upper Deck has been hosting giveaways at cheerleading camps and concerts, and collaborating with the American Youth Soccer Organization.

Neopets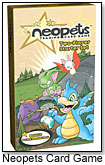 Like LocaSmarts, Neopets, Inc. is all about interactivity. Begun in April 2000, the Web site, which allows visitors to adopt and care for a virtual pet, attracts a worldwide member base over 25 million strong, comprised 57% by females.
Neopets began producing collectible trading cards through Wizards of the Coast (ToyDirectory) to be played in conjunction with games on the site in September 2003. Now on their fifth booster pack, Neopets' Executive Vice President of Business and Legal Affairs Stephanie Yost Cameron says the collectible card games appeal as much to girls as they do to boys.

"Most others are intentionally boy-skewed, where they blow things up and have more battles," Yost Cameron says. "We're not trying to be female skewed or anything – we're just staying true to our brand."

Trading Cards

In a related category, trading card companies are also becoming increasingly aware that by introducing cards that tie into properties enjoyed as much by female fans as male, they can grow their business in an already male-saturated market.

"A natural place to look for expanding the collector base is women and teen girls. A lot of our titles lend themselves to a larger female audience. Naturally more girls will start collecting," says Andy Modlin, public relations representative for Inkworks.

These products include "Buffy the Vampire Slayer," "Alias," "Robots" – a recent addition to Inkwork's product line – and next fall, cards based on the hit television show "Lost."

All film and television series have strong female role models and draw a wide audience of female viewers. Modlin says that while his company is not expressly targeting females in the marketing of these titles, the company expects more women to be drawn toward the products as they build a connection to the show.