Article Synopsis

Age compression is a term for children getting older younger.
Kids have been abandoning traditional toys, like action figures, at an earlier age.
To retaliate, retailers have been focusing on action figures based on blockbuster films.
Manufacturers have been trying to stick to licenses with staying power, like TV shows.
Adult collectors make up 14 percent of the action figure consumer market.
Age compression, the idea that kids are getting older younger, is a term used often among toy manufacturers, retailers and other industry insiders. The reality of age compression can be seen when looking at the downturn in sales of traditional toys like action figures. While 2004 was a fairly flat year for action figure sales, the previous year saw an 18 percent drop in goods sold.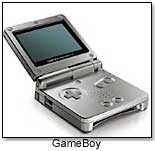 "Kids are growing up earlier and they're abandoning traditional toys for products that are not generated or even traditionally marketed to them, like video games, iPods and cell phones," says David Riley of The NPD Group.
Electronic items – traditionally adult "toys" – are becoming the top entry on every child's wish list, and action figure sales are suffering as a consequence.
According to Steve, the manager of Toys 'R Us in Fort Wayne, Ind., whose last name had to be withheld because of company policy, his store carries less of an assortment of figures than it did in the past. "It really began about four years ago," the manager said. "There is more of an interest in electronics, like Game Boy and Play Station.
"Action figures are real popular with collectors, but sales die off after Christmas, and they're even down during Christmas from what they were a few years ago."
Not far away, at the city's Target, the action figure aisle remains popular, but also offers a smaller selection than in the past, says Deb Brasalton, team leader for toys at the store. With limited shelf space in Target and other retailers, the toys have been squeezed to make room for others, including the ever-popular electronic toys.
How do companies retaliate against the slip in sales on action figures? Most are looking for ways to improve their toys or add features, or they're jumping on the bandwagon of the blockbuster movie to increase sales in this area.
Industry experts are optimistic that action figure sales will rebound in 2005, in large part due to the release of major movie properties specifically geared toward tweens and young adults.
A host of blockbuster films slated for release this summer, including "Star Wars: Episode III – Revenge of the Sith," due out on May 19; "Batman Begins," to be released June 17; and "Fantastic Four," in theaters on July 7, should help rebound action figure sales (read more about these products by clicking here).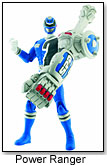 Toy Biz will produce figures inspired by Fantastic Four, while Hasbro has the Star Wars line of figurines.
How do other major toy companies battle the effects of the blockbuster movie on this segment of the market? Bandai America Inc., a major manufacturer of action figures, rides the ins and outs of the licensed figures' craze, something their long-standing Power Rangers have been able to do well.
"Toys based on movies are a seasonal phenomenon," says Matt Golding, director of marketing for Bandai America. The impact is felt, but not long-standing, likely due to the fact that Power Rangers are on television consistently, he adds.
Power Rangers' 13-year stay in the market is due in part to adding more accessories, different-sized figures and even voice options in the toys. The changes in what children want have forced the company to be more dynamic and offer more than the five-inch basic figure, Golding says. That's also true in its other lines, including its Gundam toys.
This line attracts an older market, from age 8 to 50, with its various sized figures and a variety of characters. The company added battle-scarred figures to its line after heeding suggestions made by customers who were re-creating battle scenes. Moreover, like other action figures, the Gundam line has the interest of collectors.
Bandai tries to keep collectors in mind, but always develops the toys to the child, Golding says. It's the variety and features that interest both groups, he adds, and this keeps adults buying. In 2004, 14 percent of the 127 million units of action figures bought in the United States were done so by and for adults, according to NPD's Riley.
"In the case of the Teen Titans toy line, our main target audience is boys 6 to 9, but because the property has a heritage as a comic book, many adults are also fans," Golding says. "As a result, we offer a dynamic lineup that gives kids the play value they are looking for while also offering a greater variety of characters for the adult fan to round out his/her collection. We have the ability with this line to appeal to both audience segments."

Dusty Trail Toys' Soldier of Fortune action figure line of toys meet the video game world by bringing the figures in the game to the toy world. And Diamond Comic Toys (ToyDirectory) offers DC action figures, based on the DC comic figures, including Batman, banking on the publishing company's long-time character popularity.
There are benefits to action figures, according to Reyne Rice, toy trends specialist for TIA, who notes that action figure manufacturers who are offering rich storylines and teaming up with television or movie studios or publishing giants are on the right track.
Similarly, Anita Frazier, analyst for The NPD Group, says action figures remain unique. She doesn't believe that the action figure, usually popular with those ages 4 to 8, should try to compete with high tech gadgets and games, normally targeted at those age 8 and older.
"I don´t see why action figure manufacturers would be trying to compete with [consumer electronics]," she says. "It's apples to oranges. The primary CE products kids are using are computer and music-related items and this is just completely different than the fantasy play that action figures offer young boys."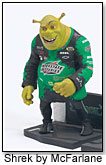 From Todd McFarlane´s perspective, founder of McFarlane Toys, the age compression issue isn't having an impact on his company´s growth, since McFarlane figures are produced primarily for adults. That shows in the consistently climbing sales each year, McFarlane says.
Other than the Shrek figures that McFarlane designed a few years ago, most of his company´s focus is on the adult collector market. But that doesn't mean they can sit back and watch the rest happen. Quality must be the focus for the figures, McFarlane says, adding that not everything they do is a licensed product.
"I think the bar will continue to be pushed higher in regard to detail and pose and sculpt quality and paint application," he said. "We´re one of the few companies that has success with non-licensed – what we call in-house – products and I don´t foresee that changing."