Article Synopsis

Educational, low-tech toys for tots have been gaining popularity with college-educated parents.
Their non-structured design promotes open-ended play and relational development.
No longer found just in preschools, parents have been buying these toys for their homes.
As technology becomes less expensive, toy manufacturers have been introducing more advanced electronic learning toys in greater numbers. Powered by massive advertising campaigns and often coordinated with licensed property, these toys have been selling very well. But not to everyone.

Toy buyers in the key demographic of college-educated parents have been increasingly turning their attention to "low-tech" toys, which are designed with specific, research-based social or emotional developmental goals in mind.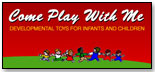 According to Crystal Perry, owner of online retailer Come Play With Me, which specializes in learning toys, her customer base generally consists of college-educated parents who are concerned about the developmental research behind a toy's design and generally have the necessary free time to interact with their children while they play.

"Interestingly, the greatest demand for research-based, non-electronic learning toys was initially from preschools," Perry says. "But as education-conscious parents see the learning toys their children are playing with at preschool, we're seeing an increased demand for these toys for at-home use."

Perry adds that a common trait among her best-selling toys is an "ability to cross developmental lines." She explains that simple blocks, for example, might be played with in one manner by a 6 month old, in a different manner by a 12 month old, and in yet another way by an 18 month old. That versatility is a benefit sought by Perry's key demographic.

Another apparent reason for the increased popularity of low-tech learning toys is identified by Ron Kaplan, president of Action Products International, a Florida-based toy maker known for its "edu-tainment" toys, such as I Dig excavation sets and Space Voyagers authentic space toys.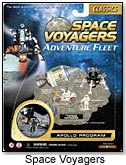 "A primary difference between electronic and non-electronic learning toys lies in who or what the child interacts with," Kaplan says. "Electronic toys are often designed with the expectation that the child will interact with the toy, while non-electronic toys encourage the child to interact with peers or adults. An increasing number of parents and caregivers are becoming aware of that distinction."

Susan Oliver, executive director of Playing For Keeps, a national nonprofit organization dedicated to improving children's access to healthy, constructive play, points out that while child development research has been central to promoting learning toys for decades, it is beginning to appear in the marketing approaches taken by mainstream toy manufacturers as well. Oliver mentions that the packaging of many toys now includes messages citing the approval of child development experts or the life skills the toys will help develop.

Specifically determining whether electronic or non-electronic learning toys is more beneficial for child development is difficult, as much of the developmental and/or play research is conducted by toy manufacturers, and their findings are proprietary. Play research is being conducted at the university level, however, and by organizations like Playing For Keeps.

"Generally, play research has been limited to short-term studies with smaller samples," Oliver says. "But the academic community is working toward establishing a national play research agenda, which will bring together the efforts of educators, human services providers and parents to translate research data into usable information, which will likely confirm preliminary findings that toys which generate safe, nonviolent play and encourage children to develop positive relationships, creativity and curiosity about the world around them can advance their social and academic development."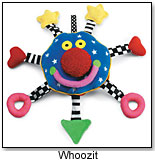 As more manufacturers note the growing number of parents who consider the developmental benefits of a toy when making a buying decision, more products are being designed based upon child development research. Examples include the Gertie Ball by Small World Toys, a soft play ball made tacky to the touch for easy catching and improved motor skills; the Whoozit by Manhattan Toys (ToyDirectory), a toy/teether that sports a hidden mirror and a variety of textures and sounds for tactile and audible stimulation; and the Quercetti Saxoflute, which allows children to configure 15 separate pieces into different musical instruments, allowing the child to creatively explore the world of music.

A fine example of specifically targeting the developmentally-concerned buyer is seen at the Tiny Love (ToyDirectory) Soft Developmental Toys Web site. The developmental value of each toy on the site (including both low-tech and electronic toys) is evaluated by Tiny Love's child development experts on what they call The Seven Elements: senses, gross motor skills, fine motor skills, object permanence, language and communication, cognition and emotional quotient. Tiny Love adds another service to its Web patrons with a Toy Corner feature – a search engine that will recommend a list, or "toy box," of age-appropriate learning toys which combine to foster balanced development of the seven elements.

This blend of the increasingly popular electronic learning toys with low-tech options is exactly what Reyne Rice of the Toy Industry Association would recommend. Since skills are best learned when a variety of the senses are engaged in the play experience, manufacturers need to demonstrate the relevance of traditional learning as a counter-balance to technology learning, he says. An education that hones both technology skills and social and emotional intelligence will help produce mature, balanced adults.