Plug and play video games continue to fly under the radar of more popular game consoles such as the
Xbox
and
PlayStation 2
. Plug and play is an excellent introduction to the world of video games for children, and parents are certain to be pleased by the price – $20 will buy a specially designed joystick and as many as 10 video games. All that is needed to enjoy the game is a television with audio/visual output jacks.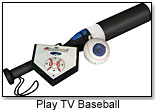 Plug and play companies insist that their market is completely separate from the more expensive and well-known consoles. Both
Radica
and
Jakks Pacific
assert that plug and play encourages active participation. Chris Wilson, vice president of marketing at Radica, claims, "Since 2000, Radica Plug and Play´s motto has been to get the consumer off the couch and into the game. The challenge for most parents is to motivate their children to be active. With Radica´s
Play TV Baseball
,
Snowboarding
, and
Football
, kids become part of the game by using our unique interactive input device which keeps them active and not sedentary."
Because of plug and play´s limited 16-bit visuals, the companies are able to offer their product at an attractive price point. Anne-Marie Feliciano, corporate communications manager for Jakks Pacific, maintains that "$24.99 is the magic price point."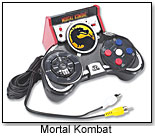 Both Radica and Jakks Pacific rely on parents' nostalgia for the '80s to move classic video games like Streetfighter and Mortal Kombat. Feliciano declares that, "Ms. PacMan was the best-selling game of the holiday season, with Namco titles a close second. But, Spongebob Squarepants is our third best-selling title," proving that nostalgia is not the only factor when it comes to marketing plug and play products.

Technological innovations such as Jakks Pacific´s GameKey Expansion Pack, which allows players to add multiple games to the controllers they already own, will keep the market competitive. Kids and parents alike will be happy to find a new cost-saving measure for the video games they enjoy. Jakks Pacific also plans on adding a wireless version of the Ms. PacMan controller in the fall, and eventually aims to add the feature to more of their controllers.

According to Wilson, these additions to the games keep buyers interested. He notes, "Radica was the first to bring physical input devices to the plug and play category. These devices like our steering wheel, baseball bat, snowboard, golf club all give the consumer the feel of an arcade or playing in the field."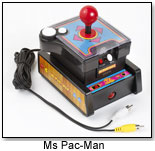 Radica and Jakks Pacific both have new titles lined up for 2005. Radica announces Play TV Baseball 3, with new buttons to enhance the realism of the game, along with Play TV Golf, and Play TV Soccer. In the retro genre, Radica plans on releasing a new edition of SegaGenesis, Volume 2, featuring classic games such as Sonica 2, Ecco the Dolphin, and Alex Kid & the Enchanted Castle, and an anniversary edition of SegaGenesis, Streetfighter II Special Champions Edition. Both games will feature the original SegaGenesis controllers and control pads. Jakks Pacific will unveil their new GameKey Expansion Pack, and the Ms. Pacman wireless controller, along with new controllers such as EA Sports II TV Games, Tecmo TV Games, and CapCom TV Games. For more mainstream and kid appeal, Nicktoons TV Games, Dragon Ball Z TV Games, and Dora the Explorer TV Games will launch this fall.

All controllers will include multiple games and a tantalizingly inexpensive price point, appealing to children and adults alike.