Star Wars fans have been waiting for May 19, 2005 since May 16, 2002, whether they knew it or not. The 2005 date is when the final Star Wars installment – "Star Wars: Episode III Revenge of the Sith" – hits the big screen, and the 2002 date was the release date for Episode II.
But while the film isn't out yet, Star Wars: Episode III action figures are. By the fall of this year, Hasbro will have released 56 basic 3.75" figures and countless other variations. The Clone Troopers and Darth Vaders and Obi-Wans will have to share shelf space with some other fantastical figures, however. As the summer is the season of the blockbuster, and action figures precede blockbusters like thunder before rain, toy stores will be literally packed this spring with licensed figures from soon-to-be released feature films: "Batman Begins," "Fantastic Four" and, of course, Star Wars.
Star Wars Episode III Figures by Hasbro
The collection of figures being released by Hasbro this year is extensive and impressive. While there are too many to list all of them here, TDmonthly Magazine has noticed a few standout items.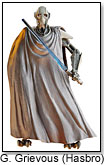 The basic figures come in two collections, Collection 1 and Collection 2, with the first collection containing the more well-known characters and the latter being comprised of various Galactic Senators and Jedi Knights.
The spinning Yoda, Jedi-kicking Obi-Wan and slashing Anakin Skywalker are newly remodeled old favorites from Collection 1, Wave 2 (figures are released in waves, as a way of refreshing shelves), but the General Grievous figure (Collection 1, Wave 3), which has a button on its back to activate an exploding body, is a good example of a new figure which is selling well before the film has even been released. Many of the retailers surveyed for this article noted that General Grievous was one of their top selling figures.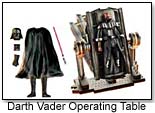 Hasbro will be releasing a range of 12-inch figures, including the 12" Ultimate Villain – Darth Vader, which captures Anakin Skywalker's descent to the dark side nicely by juxtaposing good Anakin (white face and all) with his black body armor. The Episode III Deluxe: Darth Vader Operating Table features a swiveling table and highlights Anakin's tragic transformation.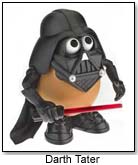 The Storytelling Yoda Figure, a fully animated Yoda equipped with stories and trivia; Grievous' Wheel Bike, a mobile attack vehicle in the shape of a wheel; and the Obi-Wan Kenobi vs. General Grievous' Bodyguard Battle Arena are promising items.
Retailers comment that the Darth Tater by Playskool, the classic Mr. Potato Head figure with Darth Vader accessories, and Lego's Star Wars products, including the Ultimate Lightsaber Duel and Clone Scout Walker, are selling well at the moment.
Batman Begins Figures by Mattel
From "Batman Begins," a Warner Bros. film set to release on June 17, Mattel has produced a line of figures which should rival Hasbro's Star Wars figures.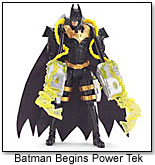 Mattel will be releasing an assortment of Batman Begins basic figures, as well as an assortment of Power Tek figures and glider figures. The basic figure assortment features characters like Batman,  Scarecrow, and Ra's Al Ghul at 5", with cool sculpts, combinable weapons and interchangeable projectiles.
The Batman Begins: Power Tek Electro Strike Figure is an enhanced, extreme-action deluxe figure which possesses light-up electronic features and accessories. Batman's garb is based on one of the outfits the superhero wears in the film. The Power Tek Laser Blaster Figure is another Batman figure from this line.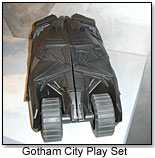 The Gotham City Glider Figure comes complete with a launcher, and when launched the figure's wings snap open to carry Batman up to 40 feet through the air.
Children can complete the action figure lineup with the Batman Begins Gotham City Playset, which takes Gotham City play inside a large Batmobile. The Batmobile-shaped case has a handle and rolling wheels for easy transport. When opened, the Batmobile dramatically transforms into Gotham City scaled to approximately 5.75" figures. This one-of-a-kind electronic set includes a pop-out train, lights, sounds and manipulative play features.
The Batmobile Vehicle thunders through Gotham City in a high-tech urban tank that combines speed, stealth and power. Prominently featured in the movie, it includes electronics that bring key scenes to life. The rocket engine in the rear and lasers in the front both light up and include cool sounds. The Batmobile also transforms into attack mode with twin projectiles that leap out and forward at the touch of a button.
Fantastic Four Figures by Toy Biz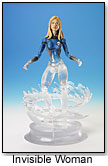 Some of the trendiest figures out there, this assortment of characters is inspired by the Twentieth Century Fox film "Fantastic Four," to be released on July 8.
The company will bring to market four waves of 6" figures, the first two of which have appeared in stores to date. Highlights include Power Blast Invisible Woman with invisible disk launching action and an elongated Mr. Fantastic figure with snap-on bendy attachments. The Two-Faced Dr.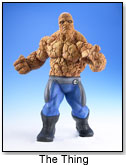 Doom with changing face and light and sound rocket launcher from Series 3, due out this summer, and Light-Up Human Torch with launching base, due out this fall, are two of the more unique figures from the later product lines.
The 12" Deluxe Figures are crafted for collectors, with The Thing unrivaled in detail and size. An Electronic Tuff Talkin' Thing, which features 30-seconds of squeeze-activated sounds and phrases, and the Clobberin' Time Thing, which boasts a built-in ergonomic handle giving the user control of the figure's battle movements, combine the basic Thing figure with slight twists.