As of 12-26-06, Hooray! is no longer in business, though they plan to license their products to another manufacturer.
Article Synopsis

Raising an autistic child gave Hooray! owner 10 years´ worth of hands-on "market research."
Using natural flocked foam rubber creates toys that are bright, soft and biodegradable.
Natural flocked foam rubber works well for occupational therapy patients.
Often, it's the smallest decisions that have the most profound effect. This is true for Audrey Koocher, president of Hooray! (ToyShow) a specialty toy company based in White Plains, N.Y.
Though Koocher took off what became 10 years from fulltime work to raise her autistic son, the time paid off. "I guess there really are no coincidences, because little did I know that those were going to be 10 years of incredible market research for me."

It's the Way It's Made
Koocher used the experience to grow the toy division of Itsy Bitsy Entertainment, her husband's licensing agency, which she purchased in 2002 when he began dissolving the company. It was through Itsy Bitsy that in 1997 she first had contact with the Huggy Buggy line of handcrafted toy cars, made of natural flocked foam rubber. She now uses the material to make other items for tots such as sports toys and animals under the Hooray! brand.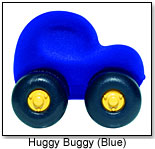 "I always knew that it was a great medium. I was really turned on by the fact that it's manufactured from a renewable resource," she says of the natural rubber sap. "I like the fact that it's kind to the environment – over time, natural foam rubber is actually biodegradable, so 50 years from now it will be like dust to dust, not clogging up a landfill."
And, despite what people might think, natural foam is actually stronger than synthetic foam, making it safer for younger ages. She notes that many synthetic foam products have an age grading of 4 and older. "That's because it's a synthetic foam which doesn't pass the bite test or the tear test, where natural foam is really strong. The fact that ours is flocked just makes it even stronger," Koocher explains.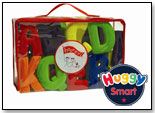 Continuing to build on the existing design, Huggy Smart is an educational line that was introduced last year. Sets consist of 4"-tall chunky magnets in A through Z, 0 through 9, and this year, lowercase letters as well.
A smart buy for educators, Koocher notes that occupational therapists like to use Hooray! products as well because they have a nice, tactile feel. They allow sensitive children to feel a different texture in a non-threatening way.
Lessons Learned
Koocher admits that without the flocking, Hooray! products wouldn't fly. Before she bought the company, the original owners had a deal with Toys "R" Us to do their own proprietary line that wasn't flocked, but merely dyed instead. "I think we found out that it's the flock that sells it," Koocher said. "It didn't look good naked!"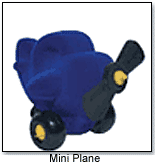 Also, because the natural material drives the price up, Koocher realized that by introducing a smaller product at a lower price point, they could attract new buyers. Hooray's top selling line is now the Huggy Minis.
"It's a really nice, rich quality product, and I think people feel good about spending $5 and getting this versus plastic or something," she says. "I think it helps that we manufacture in India – I think people are looking for things that come from countries other than China."
Koocher has a full staff in India, where she plans to spend one week each month, and is currently building a new factory. Her husband, Dean, handles the financial end of the business from White Plains.