---
Selling Memories
Article Synopsis

Nostalgia and collecting drive up sales of re-released plush.
Collectors wipe some popular items off the shelf.
Care Bears, Curious George and Raggedy Ann are among the top sellers.
Nostalgic plush toys — recent re-releases of soft toys from past generations — continue to pop up in stores across the country. As the popularity of these old friends gathers momentum, so too does the urge to understand their attraction to customers.

Nostalgic plush sales appear to be driven by two loosely defined classes of buyer: collectors and parents or grandparents who owned similar toys as children. Some buyers are motivated by the speculative after-market for licensed products, and view toy purchases as an investment, with the goal of reselling to collectors at a profit in future years.

"Collectors watch toy production as closely as many of us retailers," explains Sandy Kubler, owner of Mulberry Street Toys near Buffalo, New York. "When a line of pose-able Madelines was discontinued, we saw a pronounced increase in sales for that product."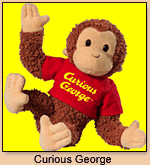 Steve Dresser, known as "The Big Cheese" of Big Fun Toys near Cleveland, Ohio, understands another motive behind nostalgic toy purchases. "Another generation has grown into adulthood and some buyers want to recapture a part of their childhoods," Dresser states. "Some simply want the toy as a remembrance, while others want to share those memories with their kids or grandkids."
Kubler recognizes that motive also, citing an occasion when an elderly couple bought a plush Curious George doll for a grandchild who specifically requested a contemporary toy.
Sheila Perry, owner of Teddy's near Trenton, N.J., notices a twist on the "recapturing one's childhood" motive. Some of Perry's nostalgic plush customers aren't giving them as gifts to children, and don't plan on keeping them due to their value as collectibles; they simply have pleasant memories of a given character and buy the toy for that reason.
The top-selling toys in this segment vary from region to region, but favorites include Raggedy Ann, Curious George, Paddington Bear and Mickey Mouse and his Disney friends, along with comparative latecomers such as the Care Bears and My Little Pony. The famous Sock Monkey deserves honorable mention as well.
The following products have been proven successes for some retailers.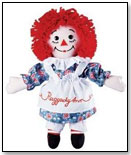 This favored toy dates back to 1915 when Johnny Gruelle invented pictures and stories to entertain his daughter during a childhood illness. Raggedy Ann, along with her counterpart Raggedy Andy, has been the subject of numerous stories in the generations since. This particular plush toy, part of the Applause Dakin Signature Collection, stands roughly 12" high, has button eyes, a blue dress and a white apron bearing the doll's name embroidered in red. Raggedy Ann is a lovable, huggable addition to any plush toy collection.

ToyDirectory Product ID#: 3594

(added 5/19/2005)

.

AD
---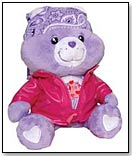 Created by the same team at American Greetings who produced Strawberry Shortcake, the Care Bears were a sales phenomenon in the mid-'80s, when more than 40 million toys were sold between 1983 and 1987. The Care Bear Celebration Collection features classic Care Bears wearing contemporary fashions. Here, Share Bear sports a bandana and jacket that reads "Care-A-Lot Choppers, Sweet Thang" on the back. The removable jacket has a hook-and-loop closure.

ToyDirectory Product ID#: 3595

(added 5/19/2005)

.

AD
---






The Nelson Knitting Co., the first company to mass produce socks in the world, launched a line of "Rockford Red Heel" socks in 1890. The first Sock Monkeys were homemade, created from the red-heel socks. The toys became so common that instructions for making a sock monkey were included with every pair of red-heel socks by 1920, and Sock Monkeys were popular toys throughout the '40s and '50s. Think of It! produces a faithful 20" tall representation of the traditional Sock Monkey with no sharp edges — even his eyes are rendered in embroidered thread, instead of buttons — making him suitable for small children.

ToyDirectory Product ID#: 3596

(added 5/19/2005)

.

AD
---






As a child's storybook character, Madeline dates back nearly 70 years. While the books are still available, Madeline is perhaps better known by younger audiences from her 1998 big-screen debut, "The Madeline Movie." This 15" dressable rag doll is created to exacting detail, from Madeline's long, red hair to her appendix scar, and is washable with a cloth and warm water. Madeline is clothed in her trademark blue coat with yellow collar, red plaid dress and yellow hat.

ToyDirectory Product ID#: 3597

(added 5/19/2005)

.

AD
---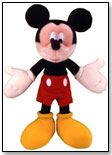 Unlike many children's characters that began in literature and made the transition to film, Mr. Mouse began in film and later moved to comic strips, books and other merchandise. While Mickey's appearance has evolved since his screen debut in "Steamboat Willie" in 1928, his character has become an American pop-culture icon. This 16" plush doll from Applause depicts Mickey in his classic, color-cartoon era attire complete with button eyes, red shorts with white buttons, yellow shoes and white gloves.

ToyDirectory Product ID#: 3598

(added 5/19/2005)

.

AD
---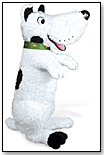 Another literary character-turned-plush is Harry the Dirty Dog, from the famous 1956 children's book of the same name by Gene Zion. This 10" Harry is made from chenille plush, with embroidered black spots and eyes. He wears a green vinyl collar with gold studs. His nose is made from patent leather, and his hindquarters are bean-filled so that he's weighted to sit upright.

ToyDirectory Product ID#: 3599

(added 5/19/2005)

.

AD
---
THIS BANNER IS AN AD:
---
---