Article Synopsis

After 20 years in the business, Jax has inventors coming to them with the brightest new ideas.
Stressing family togetherness gives Jax games a natural niche.
Including a flyer listing all products with each game acquaints customers with the entire Jax line.
Jax Games (ToyShow) believes in solid value and solid construction for each and every one of its games. The company, a privately held firm in Minneapolis, Minn., opened its doors for business in 1980 with classic offerings that included pinochle, poker, blackjack and Kings in the Corner.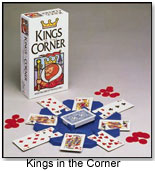 More than 20 years later, Kings in the Corner, a game that's more than solitaire, and more than a board game, still holds a place in the product line, and Cindy Levine, executive vice president, notes that they rarely discontinue any item. Jax emphasizes games with cards, dice and a board – classic components of many family game collections.
There is no lack of potential new games to consider adding to its catalog, and Levine says that a core group in the company tries out each game. Their collective decades of game-playing experience – like other company staffers, she grew up playing games – add up to knowing almost instantly whether an item is right for them.
Today, the Jax line has expanded to include the mass marketed Sequence along with its sibling products, including Jumbo Sequence and Deluxe Sequence, and two new games this year alone.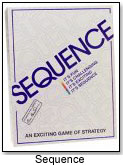 Levine discusses Jax Games and its winning play in her own words.
Independent inventors from all around the world come to us with their games; we don't need to find them, they find us. For the games we license, we manufacture parts and assemble games both abroad and here in Minnesota. We're very excited about our two new additions, Kazink and Poker's Wild, which we introduced at Toy Fair 2005 in New York.
Like so much of what we do, Kazink uses a board, cards and chips. The object is to crown two rows of chips before your opponent does. With Poker's Wild, you score points for creating the best poker hand on the board. The current poker craze has raised concerns about gambling by parents, but Poker's Wild shows that people can enjoy the game without the gambling.
We believe in our slogan, "We bring families together," which is especially important today when computers and television compete for our time. We want our games to appeal to a broad range of ages and interests and to give people the opportunity to have fun together, to interact. Take Sequence, for example, which an inventor brought to us in 1982. The game can be played by 12 people ages 7 to adult; each person has a hand of cards, but with a larger group you divide into teams. Sequence is an easily learned game that more experienced players can continue to enjoy through planning strategies to get those five chips in a row.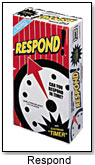 Teachers and home schoolers also find our games to be great for children by reinforcing counting or mathematics and spelling skills; we have a large following in these groups. Respond, for example, calls for picking a category from the cards in your hand, naming an item in that category, and discarding a card for every correct answer. There's a timer, too, that adds fun to the play.
In the last several years, we have adopted a new cross-sell approach: each game includes a flyer with all our games pictured. That has definitely had good results.
What we have learned in this challenging business is that word of mouth is the best way to create popularity and demand for a game – but the game has to be good. Advertising helps, but only if the game is worth it. We strive for a good game that people will like - and letting them know it's there. That's what we keep in mind as we look for the next possible addition to the Jax Games name.