The warm weather arrived just as my son learned to put on his own shoes. The result was that he spent 30 percent of his waking hours sitting at the front door – shoes on – hoping someone would let him out. The remainder of the time he was outdoors. So as my toddler began discovering the lure of being outside, I began buying some fun outdoor toys (you can only collect so many rocks, bugs and sticks). I've also rediscovered my career as a toy inventor.
The first thing we craved was that outdoor classic – bubbles. Unfortunately, because of a combination of a "Me do" attitude and ignorance about the laws of gravity, my toddler spent most of his time with a puddle of bubble solution on himself and my marigolds.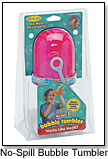 I admit to some skepticism when I spotted The Original No-Spill Bubble Tumbler (Little Kids Inc., $5.99). But it only took a few minutes for my son to master the narrow wand and its slot and me to realize that it actually didn't spill. Most women rush home from the mall and tell their girlfriends about the shoes they just bought. I rushed home to sing the praises of the Bubble Tumbler. And to add, "It's so simple – I could have thought of that!"

I've made this claim before. After countless trips up the hill to our house with a tired toddler on one hip and an abandoned bicycle on the other, the store rang with my "I could have thought of that!" when I saw a small bike that included a long handle on the back in case a worn out rider needed mom to give an extra push. The in-line skates with the wheel that popped out to the side to serve as a training wheel? Definitely could have thought of that. Same for the Give It a Whirl (Discovery Toys, $6.99) – a cross between a Frisbee and a kite.



Despite my dismissing these toy developments as "simple" I have never actually been the author of one of these ideas. I guess that's why they call me the Toy Mom and not the Toy Inventor. I know a good idea when I see it but I never see it for the first time in my own brain.

Of course you can well imagine a parent's reaction if their offspring announced they were going to be a toy inventor: "What?! Is that a real job? Take some accounting courses so you have something practical to fall back on."

We never give toy inventors the respect they deserve. Joan and Melissa will never be working the red carpet at the Oppenheim Toy Awards. Yet these men and women are invisible members of our families, toiling behind the scenes to keep us happy. While our children seek only fun, we parents expect educational value, enjoyment for all ages, safety, simplicity—in short, perfection. Rather than being discouraged, toy inventors continue to develop, design, tweak and improve. For all the demanding parents out there, I'd like to say thanks for hearing us out, and for not taking your mom's advice to get a practical career in accounting.