Article Synopsis

Doll collectors await holiday collections as early as midsummer.
Limited supplies drive demand for special doll items and collections.
Add-ons add value: Lenox accessories/Bob Mackie designer clothes.
For collectors, few things compare to the excitement of the introduction of a new holiday line of creations. Even though it's only summer, many collectors are eagerly anticipating the moment when special Christmas editions will be released.
With more than 6,000 dolls in its inventory, The Enchanted World of Dolls and Gifts in Rochester, N.Y., knows the importance of good timing when it comes to getting holiday dolls on — and off — the shelves. Ryan Hanley, who has worked at the store for more than five years, says that some of the more popular doll lines, such as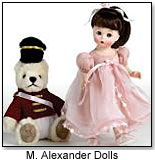 Madame Alexander, release their collections early in the year. He orders them as soon as possible.

"The actual production doesn't start until the middle of the year and I don't put them out on the floor until sometime in September," he says. Still, that's not too soon. "Christmas dolls tend to sell out fast. … Since most times, these types of collections have a somewhat limited production number, they are a hot item."

Even though Mattel's Barbie has a loyal following of customers year round, the holidays are a special time for the company. The holiday Barbie™ is usually one of the collection's best sellers each year, and is eagerly anticipated by collectors.

However, this year Mattel has something even more spectacular up its sleeve. "For the first time," says Michelle Einkauf, Mattel public relations representative, "world-famous designer Bob Mackie has designed our holiday Barbie for 2005. Barbie will be very special this year, and with a limited number available on the market, we're confident that she'll be incredibly collectible."

Mattel is not the only company that realizes that the draw of certain doll collections can be enhanced with a high-end partnership. Certain Madame Alexander dolls come with specialty items crafted by Lenox.

"The partnership between Madame Alexander and Lenox is a very strong one," notes Hanley. "Many of the Madame Alexander dolls we sell have a little porcelain or china trinket or other item that goes with the doll: like last year's Christmas doll that came with a Lenox-made tree ornament."

Other special accessories can make a doll more attractive to the collector. For example, one of Madame Alexander's 2005 Christmas Dolls, Peppermint Swirl, offers not only an adorable 8" doll dressed in a candy-cane color scheme, but also includes a small teddy bear designed with the same theme.

With dolls truly being a toy in which love is passed down from one generation to the next — from grandmother, to mother, to child — the market is wide and diverse. Not all holiday "collectible" dolls will end up sitting in a curio cabinet. Some will find "true love" in a 10-year-old girl's own fantasy story, or even be tucked into bed by loving little hands. Doll lovers — young and old — will have no shortage of options to choose from in the upcoming 2005 holiday season.

The following are just a few of the collectible holiday items to be released in 2005.

For more than a decade, Barbie doll has celebrated each holiday season with a doll commemorating the year. Joining this lovely tradition is the first ever Holiday Barbie doll designed by Bob Mackie. The 2005 Holiday Barbie doll wears a gown of white printed jacquard with glitter sparkles over white tulle, fuchsia organza and pink satin. Barbie doll's bodice is also accented with a luxurious burgundy sash. The beautiful accessories of silvery emerald and crystal colored earrings, tiara, necklace and brooch complete her festive ensemble.

.

AD

.

AD

Part of the Flopsies line, this 12" plush pink pig is filled with beans and comes with his own adoption certificate. The beans are double-bagged for safety and durability. Keeping with the holiday tradition, Holiday Oink comes wearing a soft red cap and scarf to warm him up during the cold weather.

.

AD