Click here to see last month´s coverage on this topic, The Counterfeiting Epidemic.
Article Synopsis

Toy companies lose tens of millions of dollars to counterfeiters annually.
Registering trademarks with the EU helps cut down on bootlegs.
Radio-frequency identification tags track merchandise and reveal fraud.
For years, items such as designer clothing, handbags and jewelry have been prime targets for counterfeiters. And while they've always dabbled in toys and trading cards, these days, they've stepped up production.
The toy industry is bigger than ever before, bringing in between $20 billion and $22 billion in retail sales each year. The loss to toy companies due to counterfeit goods is estimated to be in the tens of millions of dollars annually.
"The economic impact of counterfeit goods is the loss of legitimate sales by toy retailers and the sales taxes that are collected," says Thomas P. Conley, president of the Toy Industry Association, which represents 450 companies. "The issue has a significant impact on the American economy. It´s a huge issue."
Business groups estimate that 5 percent to 7 percent of global trade deals are in counterfeit goods, accounting for $350 billion in illegal sales each year. The loss to American businesses is estimated to be between $200 billion and $250 billion annually.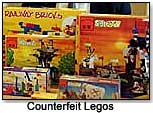 Mark Traphagan, a member of the intellectual property and international trade practice with Collier Shannon Scott LLC in Washington, D.C., says companies can make themselves a less attractive target by implementing an anti-counterfeiting program. The plan includes prudent trademark management of key brands and registering trademarks worldwide, especially with the European Union.
"As of last year, registering your product with the E.U. gives you protection in all 25 countries," he says. "Registering your trademark then gives you the authority to take action against suspected counterfeits that are being imported." For those companies that produce goods in China, Traphagan recommends they pay the $1,000 fee to have their trademarks registered with local authorities.
He adds that it is crucial for toy companies to work with customs and other law enforcement agencies when they believe a trademarked product may be counterfeited overseas or in the United States.
Other measures used to prevent counterfeiting include radio frequency identification, or RFID tags. In addition to Wal-Mart, retailers such as Albertson´s, Marks & Spencer, Target, Best Buy and others have issued RFID mandates to their suppliers.
The tags are attached to packaging to keep track of inventory as it makes its way through the pipeline from manufacturer to retailer. RFIDs are microchips that listen for a radio frequency and respond by transmitting their unique identification. Most tags don´t have batteries; they use power from the initial radio signal to keep track of inventory.
"They identify the type of product by using a unique serial number," says Jack Grasso, senior director of public relations with EPCglobal US. "The chips are then read as the product makes its way through the supply chain and creates a record of where that product has been and when." Grasso says it´s virtually impossible to inject a counterfeit product into that stream of information.
Currently, the cost to implement RFID programs is high due to low volume, but EPCglobal US expects that within the next five to 10 years the technology will be widely used.
Based in Lawrenceville, N.J., EPCglobal US is a not-for-profit organization that establishes standards regarding the development, implementation and adoption of electronic product code and RFID technology.
Currently, there are more than 500 companies worldwide that have signed up to use RFID tags and are in various stages of implementing this technology, says Grasso. Those companies represent a trillion dollars in retail revenue, he adds.
"The investments they are making now will benefit everybody as the technology becomes more mature," says Grasso.
Until then, buyers and sellers beware.