Article Synopsis

Brushed tricot works well for microplush toys.
Polyester suede creates high-quality products.
Baby boa and kohair are super-soft.
Plush manufacturers are in the business of making toys that are often described as "cuddly," "soft" and even "cute."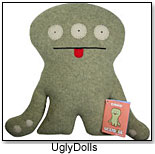 One of the most important factors in plush is the material used to make them. The various fabrics affect not only the appearance and feel of the finished toy but are an important factor in durability and cost.
The material used in Ugly Dolls by Ugly Doll is a "fleece like" material that appeals to all age groups, according to company representative Victoria George. This material was developed by artists working directly with the supplier.
Sometimes the product design will present unique challenges, as is the case with Wibbles by Wibbles LLC (ToyDirectory). In this instance, the extremely small size of the product (only an inch or two wide and across) makes many materials unusable because each animal is hard to sew. Heidi Jacquin, President and CEO of Wibbles LLC, explained that the usual material used in micro plush toys like hers is brushed tricot, which is a felt-like material with a scratchy feel.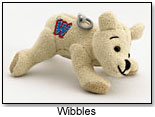 Jacquin felt the plush animals needed a material that was softer, so she turned to the apparel industry to find polyester suede. This is a poly blend that looks and feels like suede and takes colors well. However, using this material isn't without a consequence.

Polyester suede is more difficult to work with than brushed tricot, resulting in a higher defection rate. Obviously, the result of this compromise is a higher priced, but higher quality, product. Wibbles has found, however, that customers are willing to pay a little more for a product that is unique and high quality.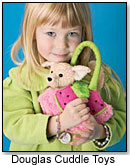 On the other end of the spectrum, the variety of materials available on the market must fuel the imagination of the artisans creating plush toys. Erika Radich of Douglas Cuddle Toys (ToyShow) feels that these are good times for manufacturers of plush. In her experience, her suppliers have been able to find materials such as baby boa and kohair that are so soft that they feel like you are "touching air."

Another interesting aspect to Douglas' approach to materials in their plush design is that they have a clearly defined strategy for each age group. They create "blankies" with very soft satin to give a soft rubbing edge for babies. For older children, glitter and sparkle become more important.
The toys that Douglas creates for 3- to 8-year-old girls show the importance of using interesting and more expensive materials as "trim" to create visually appealing decorative effects. Artists use feathers, fringe, baubles, gems, buckles, ribbon, denim and more to decorate their products.
The use of mixing in expensive materials is a great way to increase the quality of a product without a high increase in cost. Also, Radich feels that washability is important, and synthetic materials are easier to wash than natural fibers (although the company does use such natural materials as cotton, feathers and lace).
Overall, it is clear that plush continues to be highly competitive, and manufacturers are working hard to push the envelope in materials and design. As a result, trends in plush materials are going in multiple directions, guided by an overall desire to deliver unique products that will stand out on crowded toy store shelves.