Article Synopsis

Wild Heart Ranch wins numerous awards for innovative line.
The company´s founder credits personal involvement in all levels of creation.
Happy customers provide incentive for company to carry on.
The little company
Wild Heart Ranch
(ToyShow) is making quite a ripple in the sea of toy manufacturers. Their line of I Sea Horses has drawn critical acclaim, being touted as one of Dr. Toy's 100 Best Children's Products of 2004, winning the Seal of Excellence in 2004 from Creative Child Magazine, and even appearing as a Top 10 Most Wanted Girls' Plush product in the Dec. 2004 issue of TDmonthly Magazine.
Dawn Van Zant, the company's founder, believes the secret to the success of Wild Heart Ranch is her individual connection with everything they develop. "We are very different in that our products are created from my personal experiences and relationships with animals and children I have known," she says. "My product development comes from my life."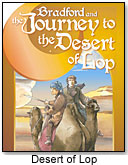 Van Zant goes on to explain that inspiration for the recent line, Bradford and the Journey to the Desert of Lop, is "based on a young boy I was very close to that died of cancer a year ago." It is moving and deeply affecting situations like this that have brought her to the realization that, "real life is inspiring, passionate and real — and children sense it."
Van Zant entered the toy field in 1996 with, "a creative dream to be the next Walt Disney." She soon realized it wasn't all fun and games.
"I approached it with the naïve perspective of the wonder of a child that loved toys in the beginning," she says. "It has been a learning curve to realize that I should approach it like any other business." 

She acknowledges her early mistakes and admits that she "gave away too much of [her] corporate power along the way," and has seen the last couple years as an opportunity to put her own imprint back on the business. This tactic has been very successful and Van Zant even admits, "Now I am having fun again and loving the business and creating some of our best products to date!"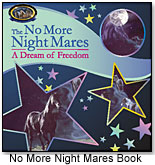 In an industry dominated by corporate giants, Wild Heart Ranch's success is truly an inspiration. Van Zant says the rewards are more than financial alone, and worth the roller coaster ride she's been on in the process of growing the business.
"I was ready to quit a few times based on the industry and trying to fit in, but every time I would think about it, I would get a call or letter from a child or parent to tell me that we comforted them or made a difference to them," she notes. "It makes me realize — yes, I would like to be a huge financial success — but at the end of my life I am going to remember the calls and letters and e-mails from the people."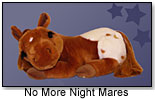 It is just such feedback that has prompted Wild Heart Ranch to reintroduce the popular No More Night Mares lines of 14" horses with night-lights. Van Zant insists, "We get letters from parents and children that bought them years ago and still can't sleep without them." There is no better recommendation than that.