Click here to read Licensed Vs. Unlicensed: The Battle Begins

So how can parents and store owners fight the humungous amount of advertising dollars pushing licensed toys? Studies have shown that what kids see on television, they want. The solution? FAO Schwarz has been around long enough to know: hands on playing.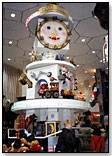 In their newest store, FAO Schwarz has created a playground of rotating unlicensed playthings: cars, trucks, planes, trains, dolls and buildings. Toys that not only push imagination, but socialization and activity as well.
"Kids love to play, but they get bored easily," points out an assistant manager at FAO Schwarz. "The latest movie action figure? 'Got it.' A TV-inspired game? 'Done it already.' A simple rubber ball … they can spend hours running around making up new games."
Melissa Moore, owner of Toy Crazy in Malibu, Calif. (where Britney Spears shops) is another firm believer in the hands-on approach. "I've had activity tables with trains and other toys on them since … well, since I opened 8½ years ago, and it completely helps selling to the kids. They love it."
At least one parent shopping there agrees: "The place is a madhouse, kids having a great time, going crazy, playing with everything. It's fun for the parents, too."