Let's take a jaunt across the "pond" and see what's going on with our media next-door-neighbors. This month we're getting on a big FX plane and flying to the UK for a look at what's happening in the cartoon biz.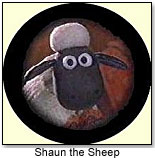 First stop: London, home of the BBC, and its kids arm, the CBBC. Their newest series, according to a chap who claims he's head of animation and acquired programmes at CBBC, is "Shaun the Sheep." That's right, the wooly star of the Wallace and Gromit short, "A Close Shave," is leading the charge in a 40-part series, commissioned from Aardman Animations (that's the multi-Academy Award winner). The character of Shaun already has merchandising: everything from lunch pails to figurines, so this series should explode that marketplace even further. "This will spearhead a whole new 'flock' of shows," badly puns our source.
HIT Entertainment (those people who brought you "Oswald" and "Bob the Builder") are looking for new projects. A secret source inside the company explains that everything they try to get off the ground fizzles out. But they are pushing new avenues on their standard lines (like ol' Bob again).
Collingwood O'Hare: if you haven't heard of them before, you should. They are doing some of the most original cartoon work around. First, there's "Yoko! Jakamoko! Toto!" a very strange, completely dialogue-less show that's got both a Spanish and African beat. It's about three animal friends, who are, at best, insanely fun. It's full of energy and a unique art style, and is airing on Cartoon Network´s new pre-school block, Tickle U, which launches August 22 -- according to a head honcho over there and at Cartoon Network.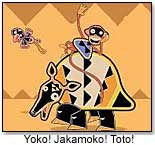 A second series is "The Secret Show," another unique-looking show, this one featuring Victor Volt and Anita Knight, two secret agents. Armed with weird gadgets created by Professor Professor and taking their orders from their boss, Changed Daily (whose name is changed daily), they battle do-badders of the weird and bizarre sort: Lucky Leo, the luckiest man in the world, Doctor Doctor, Professor Professor's female arch-nemesis, and The Nanny. It's offbeat to say the least, and mucho fun-o. The "little bird" says figurines, obviously, but look for future gadget-sets galore.
Next stop: right across the bay, Ireland. Cartoon Saloon has a very odd show called "Skunk," which, according to a producer working on it, "Is about a Young Skunk who learns kung fu from Master Panda to become the defender of the forest animals; it has humor, action and Zen!" Look for the older boys on this one: ages 6 to 12.
Magma Films, the big boy in Irish animation, has a flock of shows ready to roll: "Arabian Nights," a 26-episode, 26-minute series that's co-produced with Hahn Film AG; "Redman and Walker," a 39-episode, 7-minute series for preschoolers; and "If I Were Grown Up." Their chairman and executive producer like to have strong strategic alliances, and they will license freely across the globe.
All right, that's it for the UK right now (more in the future). Keep those e-cards and e-letters coming; they help me know where to go.

Update! Update! Flash! Flash!

I don't like to say "I told you so", but:

Techno Source, a privately held toy company, and a leader in electronic toys, games and learning aids, announced that it has signed a licensing agreement with Warner Bros. Consumer Products to produce electronic games based on the hit Warner Bros. Animation television series, "Xiaolin Showdown," currently airing on the number one kids broadcaster, Kids´ WB!

Techno Source´s exciting new Xiaolin Showdown line will be available in Fall 2006 at retail outlets nationwide. This new line is the latest collaboration from Techno Source and Warner Bros. Consumer Products, who first partnered last year to announce a licensing agreement for several DC Comics properties, including Warner Bros. Pictures´ "Batman Begins" and Warner Bros. Animation´s "The Batman," "Justice League Unlimited" and "Teen Titans."

Hee-hee-hee … you heard it here first.