"You have to be involved in the community in a way that really comes from your heart." —Valerie Pontbriand of Four Eyes Joke Shop

Instead of trying to compete with mega stores by offering the same crap as they do, Valerie Pontbriand of Four Eyes Joke Shop throws her crap on the ceilings and around her bright geometric carpets. The fake Super Deluxe Dog Crap she orders by the case ends up on the bottom of lucky customers' shoes, and is part of a unique experience that attracts clients from around the world to her store in tiny downtown Southbridge, Mass. (pop. 17,214).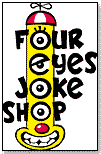 Until Pontbriand opened the shop last year, "we never knew that people from way out of state and foreign countries were driving through our town," says Cassandra Acly, economic development and planning director for Southbridge. "But they are. And they've discovered her."

So did a news crew from Boston's WCVG-TV. They descended on Four Eyes late this spring to shoot a segment for "Chronicle," the nation's longest running locally produced nightly news magazine.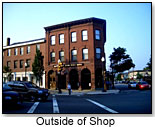 "This isn't your typical joke shop," explains Pontbriand. "We create a fun atmosphere. We even have a joke bar where we 'serve' jokes and magic tricks. It's jammed on the weekends."
Location doesn't hurt either. Four Eyes is situated on a corner with two sets of traffic lights. More than 20,000 cars use the thoroughfares outside the store every day and can see inside to its bright yellow walls and shelves lined with cigarette loads and million-dollar bills.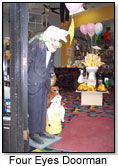 "Before Valerie arrived, shopkeepers in the downtown area complained that cars would drive by without stopping," continued Acly. "But Valerie painted her window frames and put up two new beautiful signs. She's had lots of people stopping."
And shopping, too. Pontbriand says that during the two weeks before April Fool's Day, her average sale totaled $175 per customer, which is especially impressive considering that each item typically costs less than $5.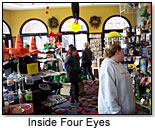 Four Eyes' success is contagious. Many downtown shops took their cue from the store's brightly colored décor and have spruced up their own windows and signage. Pontbriand also revived the town's May Days Event, and initiated "Southbridge Vision," a project that encourages residents to submit town improvement plans to the local paper for a prize.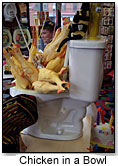 "You have to be involved in the community in a way that really comes from your heart," says Pontbriand, who left a career in finance to become known around town as the "joke lady." "It's not enough to stand at the door and greet people. You have to invite them into a conversation. You have to care."
Pontbriand began Four Eyes with her husband and twin son and daughter in their garage shortly after September 11, 2001. She felt that the nation's somber mood needed some relief, pointing out that practical joke items had a surge of popularity during the Great Depression.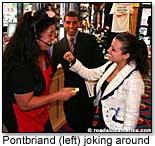 Skyrocketing sales of invisible ink, exploding gum and flies-on-a-bagel are proving her right. In addition to the store, the company has two warehouses, a small fleet of trucks, and a Web site (newenglandyankee.com). They're also planning to open another store, but – once more – location is paramount.
"We won't be moving into a mall," she insists. "We're looking for another downtown area that needs revitalization. We're a family-owned business; we know how we help make each other strong. We live by the mentality that you get what you give."