Small retailers take note: Big Lots! has been so successful with their scrapbooking section (implemented in October 2004) that by October of this year, they hope to expand their eight feet of linear store space for scrapbooking into 12 feet. October marks the beginning of the scrapbooking mega season, and, as vice president and divisional merchandise manager Crystal Weary pointed out to TDmonthly Magazine, if they don't get the section tied down by then, the space will be lost to Christmas and other holiday products.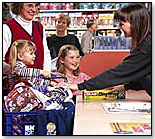 Competition from Big Lots! has already contributed to the closing of a number of specialty scrapbooking retailers. What's equally distressing for small retailers is that, while most of the major retailer's product line comprises overstock, Big Lots! has been further developing their in-house "Creative" label to include more scrapbooking products. Though unable to undercut retailers by the 30 to 70 percent that the often-outdated overstock items can, this fresh material is "still competitive at prices about 20 to 30 percent off of the rest of the world," said Weary.
Right now, most of the scrapbooking items sold under the "Creative" label consists of tools, such as scissors, that Big Lots! has trouble finding on demand. By October, though, the company hopes to work with existing partners to develop stationery products and other paper fashion accessories, according to Weary.
Find out more about how to remain competitive in this increasingly tight product category by reading Zan Dubin Scott's article, "Big Lots! Concerns Scrapbooking Community" appearing in TDmonthly's upcoming October issue.