In this, the sixth and penultimate installment of the Harry Potter series, Harry starts out in a much better position than the previous book. When last we left him, he was being called a fraud and a glory-hound. Basically, no one but his close friends believed in him, or the fact that Voldemort had returned.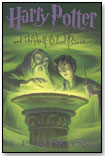 This book has Harry vindicated in a big way: people are even calling him "The Chosen One." Too bad Voldemort is at war with the whole world, and people are dropping like flies. Harry's sure he'll be next. The rest is lots of Hogwarts and his friends, girls and deadly spells.
What's best in this book is there's lots of interaction between Dumbledore and Harry; in fact, they go on a dangerous mission together near the end. At heart, that is the glory of this episode, a chance to see this lost boy finally get some quality time with his surrogate father.
Too bad the rest is more of the usual. Harry is still the hotheaded, never-learns-from-his-mistakes kid who seems he's the same age now as he was in book one.
His two best friends Ron Weasley and Hermione Granger are still the same (although there's a hint there might be a romantic involvement forthcoming), his teachers are still the same, everyone is still the same. The only person who seems to grow is Ginny Weasley, who Harry finally realizes he has a big crush on. But her growth is more physical than mental: she's a babe.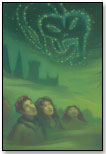 So what's the attraction? It's a comfortable world that has a bit of humor, a bit of adventure, a bit of pathos (particularly the end). There's nothing new here, although the story is definitely a cliffhanger preparing us for the last book. Rowling had promised a main character would die, and she's didn't renege. This is a great read for anyone who already likes the series, a must for the fans.
But is it a classic? Only time will tell, but although sales are amazing, they seem to be repeat sales. Evan Kahn, a longtime fan, is less than impressed: "I read it because I had to. I'd already read the other five. And I'll read the next one. But it's a little young for me now. I like the 'Lord Of The Rings' much better."
And that's it. Despite the fact that Rowling has aged the kids in each book and made the plots darker (which could be a problem for younger readers), it doesn't really read much older. It's still the same youthfully exuberant storytelling as the first, warts and all. Rowling's smart about that; don't change horses in mid-stream, especially when that's a money stream. But will it stand the test of time, or will it be this generation's "Nancy Drew": writing-lite?
Right now, who cares? It single-handedly saved the children's book business. But even that is a double-edged sword. As one long-time British children's writer Karen Wallace stated: "The whole business has shifted. Now publishers are looking for homeruns and not long-term quality. It's making it difficult to build an audience. And it robs the readers."
But, who's going to argue with billions of dollars in sales? If you've read the others, read the book. If you haven't? There's the "Lord Of The Rings."