While they may look like the same wooden blocks or trucks of 50 years ago, some of today's wooden toys are going high tech. Several companies are using technology to improve safety measures or to create more unusual products.
For D and Me Wood Toys LLP (ToyDirectory) of Stevensville, Mont., safety concerns caused them to change the lines used on the company's wooden trucks. Chains have been replaced with parachute cord, says Mary Hurley, who owns the company with her husband, Don Hurley.
"There are no breaking links that can be choking hazards for small children, and the parachute cords' poundage rating is higher than safety standards require," she says. "And, in Montana, parachute cord is readily available, so it is cheaper for us to use."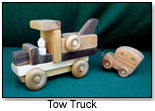 In addition to the change in lines for crane truckstow trucks ($38.50), along with other vehicles, the 29-year-old company also uses power nails in production to keep the toys sturdy. But otherwise, "we basically make them out of wood, just as they always have been," Hurley says. That means using hardwood and hand-dipping the toys in natural "child-safe" oil, or for painted toys, using non-toxic toy enamel.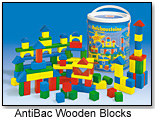 For HEROS (ToyDirectory) of Germany, technology has provided a means to make their blocks less susceptible to germ transfer. Developed in the laboratory, the antibacterial wooden blocks, called Antibac, are coated with paint that contains pure silver. Nanoparticles of it are worked into the surface, according to Marilyn Chalais, representative for HEROS.
Chalais says testing shows the use of silver to prevent the settlement of microbes, which, in turn, prevents the transfer of germs. The company offers the Antibac wooden blocks, recommended for children 1 and up, in 120 pieces ($55.00) in different shapes and colors. They come packaged in a HEROS drum.

While the Good Wood Gang from Friends With You, distributed by Strangeco, seem like straightforward collectible figurines, Friends With You specializes in taking high tech elements and making them simple, says Jim Crawford of Strangeco. What may bring technology into play with these wooden toys is the fact that they come unassembled and without instructions. "You create your own character pieces," Crawford says.
The Good Wood Gang, including Blackfoot aka Captain Bingo, hit the market last month. The series of detailed modular wood toys are "tinker toys for the art school [crowd]," Crawford says. Originally limited to a run of 500 each, customer response has already been so strong that Strangeco is considering a rerun of the Good Wood Gang, says Emily Brough, sales manager for the company.