"We don´t carry motorized cars; we like to provide kid-powered toys." —Sally Cashiwa, Timbuk Toys


Although the NPD Group reports that last year's toy vehicle sales dropped nearly 9 percent, some say the trend is reversing. Leading the pack in sales for many small retailers are ride-ons that promote exercise and don't take up much shelf space.

"We've seen an increase in ride-on sales this year," says Meghan Block, manager of Terri's Toy Box in Seattle, Wash.

One reason may be that as the nation seeks a solution to the childhood obesity problem, ride-ons offer a healthy option. According to the Toy Industry Association in a 2005 Toy Fair press release, "with childhood obesity in the spotlight, it should come as no surprise that toy manufacturers are launching new products that focus on physical activity."

Wendy Hammond, buyer at the Hub Hobby Center in Richfield, Minn., agrees with the trend and notes that stocking battery-powered ride-on vehicles almost isn't worth it, although they have sold two battery-powered John Deere ride-ons by Peg Perego U.S.A. (ToyShow) recently. Hammond says that someone in the market for a battery-powered ride-on is probably headed to Wal-Mart anyway. These vehicles also present a stocking issue since they take up a lot of space, even for Hub Hobby's 14,000 square feet.
While big stores dedicate an aisle or more to motorized vehicles, many independent stores prefer a different set of wheels. "We don't carry motorized cars; we like to provide kid-powered toys," says Sally Cashiwa of Timbuk Toys in Denver, Co.
Smart retailers target a younger audience as well, helping kids to become active before they can even walk. A line of high-quality rockers by Mamas & Papas Ltd. that includes lions, snails and zebras as well as traditional rocking horses moves quickly off of store shelves.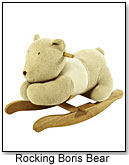 "These sell out immediately, every time we get a shipment in," says Karen Barwick, owner of Boomerang, a toy store in New York City. "The snail is the best seller of the rockers we carry."

Still, no matter how fast a ride-on sells, presentation plays a key role, stresses Hammond. At Hobby Hub, potential buyers may take a spin on the Trikke but not on the Flybar, and most items are kept up out of the way with a display model in the window.

"If you leave things out," explains Hammond, "you don't know where in the store they might wind up." That includes the humble Red Baron Bi-Plane pedal car, another good seller for Hub Hobby.

What follows are more details on some popular kid-powered ride-ons.

The Trikke 5 vehicle is scaled down for riders ages 7 and up. Small enough for kids to enjoy around the neighborhood, the 100-percent-aluminum Trikke 5 is durable enough to handle the demands of freestyle riding teens. Collapsible and compact, the Trikke 5 is an excellent way to get kids out of the house and into an exciting activity that´s as much fitness as it is fun.

.

AD

.

AD

.

AD

.

AD

This colorful rocker is made of soft velour fabric, wooden handgrips and footrests. It plays the song "You Are My Sunshine" as baby rocks back and forth. The seat is 12" from the floor, and the rocker is 27" long by 14" wide by 20" tall.

.

AD

The Jalopy Pickup is brand new to the market. It is constructed of heavy gauge steel with 9 ½" diameter tires to make pedaling easier. The paint is non-toxic powder coat with real wooden sideboards. It is toy safety tested and approved. The Jalopy Pickup is 38" long, 17" wide and 21" high, and is suitable for children as young as 2 ½. There is some adult assembly required.

.

AD

.

AD

Launched in summer 2005, this little horsie is made using a patented rubber bounce suspension that provides a safe, quiet ride. A removable "safety saddle" lets the toy grow with its rider. Parents will appreciate that the fabric body is removable and washable. The toy also features easy-grip handles and squeezable ears that make a crinkling sound, fun for kids as young as 9 months. The Rock & Bounce Pony does great at the Children's General Store in New York City, said general manager Michael Stone. "This product's done extremely well for us," Brian Simms, vice president of sales for Radio Flyer, told TDmonthly. "It has great gift-giving appeal and we've seen fourth-quarter sales ramp up as a result." Not only will Radio Flyer be continuing this item for 2006, said Simms, but they're considering developing a series with unique features, such as longer plush, specifically for the specialty toy market.

.

AD

This is the world's first tricycle equipped with a rear wheel steering system. Loaded with many unique, patented features, the pioneering Happy-Navigator makes it easy for mom or dad to effortlessly guide the trike into any direction, just like a stroller. This tricycle also grows with the child and makes riding safe and fun for many years.

.

AD

.

AD

.

AD

shipping in March 2006 — this powerful and updated version of a pogo stick is made especially for smaller kids. Like the Flybar 1200, it gives a trampoline-like sensation to the rider. It is suitable for a weight range of 80 to 180 pounds.

.

AD