Still in its relative infancy, online gaming represents a small but growing piece of the gaming industry's pie. Whereas the Entertainment Software Association (ESA) estimates that nearly 60% of Americans (or 180 million) are involved in gaming in some capacity, generating a $7 billion industry, the Yankee Group out of Boston estimates that of those gamers, 3.5 million people prefer their games in real-time.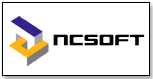 The bad news is that online games are generally subscription-based, with gamers paying a monthly fee of about $15 to feed their foray into virtual worlds. NCSoft is testing an alternate financial model, with a one-time cost for the game supplemented by add-ons or "retail expansions" a few times per year to keep gamers coming back.
The staff at EB Games in San Pedro agreed that selling to online gamers is a tricky business. Linking merchandise to gaming content is the obvious association. Guidebooks, game-books, and books that explore ways to cheat the games are all popular side-sales. However, Josh, 19, a gamer in Orange County, Calif., admitted that even though he'll pick up a handbook every now and then, it's mostly for the artwork. "I don't like using books to play games … and I still come into the store for the multiple screens, to play the regular PC-based games against other guys."
One untapped market for retailers may be female gamers. The ESA recently released figures that women 18 and up constitute 26% of the overall gaming population, a larger percentage than males aged 6 through 17 (21%).
GameGal.com caters specifically to the needs of female gamers. Senior writer, Libe Goad, said that "whether it's a shooter game, an RPG or a puzzle game, it's the community of people online … that matter, and that community aspect is a strong draw for women."
Pressed for reasons why to visit retail game stores, Goad added, "books, action figures maybe. A lot of female gamers are honestly a little fearful of going into the stores; they get treated differently, talked down to." When asked how stores could improve, Goad said, "They should make the displays more easily accessible, have more information about the games readily available, and stop hiring snot-nose punks!"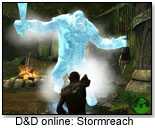 Two of the most commercially profitable community fan bases are being targeted by Turbine Inc., which recently secured more than $30 million of equity funding. Dungeons & Dragons Online: Stormreach is the biggest venture yet for the Massachusetts-based company. Though its Dungeons & Dragons efforts are being teamed with a traditional publisher (Atari Inc.), Turbine has plans to self-publish the first online game based on Tolkien's "Lord of the Rings." If the success of the LoTR movies is anything to go on, (all three rank in the top-20 film grosses of all time), the merchandise cash cow associated with the franchise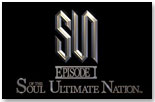 may continue to moo for some time.
The online industry is marked for expansion, with more than 25 titles expected to debut within the next two years. The key players to track in this market include Imaginary Numbers, Disney Online (with a Pirates of the Caribbean title set to debut in 2006), Mythic Entertainment, NCSoft, Webzen (whose SUN game features music from renowned Hollywood composer, Howard Shore), Perpetual Entertainment, and Funcom.