The lifelike baby doll trend that exploded the collector's market is moving to the local department store. The Uneeda Doll Company is working on a line of mass-market lifelike baby dolls meant for play instead of collection.
"The sculpts are done and we have approval," said Richard Flaxman, president of Uneeda. "No one has done this in the mass market at acceptable price points." The dolls will preview at the American International Fall Toy Show in October.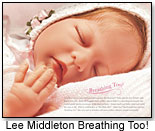 Meanwhile, high-end lifelike doll companies upgraded their own lines to be even more realistic. The Lee Middleton Original Doll Company's new Breath of Life Breathing Too! Babies are fitted with a "high-quality mechanism designed to give a subtle indication of breathing," said Mark Putinski, vice president of marketing for Lee Middleton Original Dolls. The babies' arms also move slightly with each breath, just like a real infant.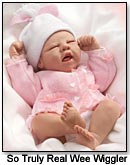 The dolls are already so lifelike that people are "astonished when they realize that it's breathing," said Putinski. Pre-orders began in July and the dolls will ship in September.
Ashton-Drake Collectibles added movement to their lifelikes. Their newest So Truly Real baby doll wiggles when you give her a gentle squeeze.
Lifelikes are so popular that little girls aren't waiting for the play versions; they've begun collecting the high-ends, as have childless couples and other adults. Learn more about the new lifelike baby dolls, how they're made, and who's buying them in TDmonthly Magazine's September articles "Buy My Little Baby" and "Sugar, Snails and Silicone."