... when asked what crafts they intended to do in the coming months, far more respondents picked scrapbooking.

Annual U.S. retail craft sales hit a record high of $30.6 billion and at least one person in 58 percent of households crafted in 2005, according to a new study recently unveiled at a major trade show. Many found the results bewildering, until presenters corrected an impression that cross-stitching and embroidery was more popular than scrapbooking, which has been taking the craft industry by storm.

The Consumer Usage and Attitude Study was released in January by the Craft and Hobby Association (CHA) at its 65th winter convention and trade show in Las Vegas. Performed by the Ipsos North America market research firm, it involved crafters of all stripes in some 500 households who kept monthly diaries of their shopping and creative habits.

"Overall, the industry outlook is very positive," Sandy M. Ghezzi, CHA vice president of marketing, member services and education, told a packed seminar audience at the Las Vegas Convention Center.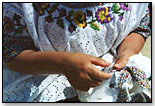 The record sales represent a $3.2-billion increase over 2002, when CHA last released the study, Ghezzi said. A recent CHA hire, she added in an interview that the study hadn't been done for three years because previous CHA executives had other priorities. She also explained why the study questioned consumers rather than compiling retail sales.
"Our objective was to understand actual consumer behavior and spending patterns and to learn about causal factors so we could help [retailers and manufacturers] better meet their needs, thus improving consumer relevance and growing overall industry sales. The industry is not currently set up for syndicated data acquisition of retail sales …. Thus, reliable industry-wide sales are not readily available on a retail level."
Yet, the finding that cross-stitch/embroidery — followed by crocheting, scrapbooking, home décor/painting and apparel/fashion sewing — was the single most popular craft niche among respondents surprised and confused many seminar attendees, given the well-known rage for scrapbooking, which took up half of the trade show's floor space.
Larry P. Anderson, an Ipsos vice president, attempted to clear things up by explaining that scrapbookers are spending more money than cross-stitchers. He also noted that when asked what crafts they intended to do in the coming months, far more respondents picked scrapbooking.
"Scrapbooking does not appear to have hit any kind of top," Anderson said.
But even a CHA board member sounded a note of concern about how the data were presented. Seminar attendees received only parts of the research and were told that the rest would be available to CHA members or for purchase in a week.
"I think you've got to explain [the research] very carefully to people or the credibility of the study will be hurt," said CHA board member Mike Hartnett.
Added Norma L. Chapman, a senior account manager for Dow Chemical Company, which manufacturers Styrofoam balls: "They have very good data, but they have to do a much better job of presenting it."
At any rate, the study also showed that 42 percent of respondents participated in general crafts, making it the most popular of the study's four main categories. Also the broadest, it includes scrapbooking, cake decorating, jewelry-making, ceramics and 14 other divisions. The next most popular categories were needle and sewing crafts (25 percent), painting and finishing (24 percent) and floral crafts (11 percent).
Overall participation rates remained flat over 2002, but crafters are spending more money on their projects and doing more projects, Anderson said. Other study highlights revealed that when choosing where to shop, price matters most to most respondents (55 percent), followed by convenience (46 percent) and merchandise selection (45 percent).
Other findings grouped crafters into six segments: Enthusiasts, who participate in all crafts types, account for 25 percent of all craft sales and are the most profitable segment; Social Scrapbookers, who enjoy the craft's social aspect, are the youngest crafters; Home Decorators, who do woodworking and painting, have the highest population of males; Stitch and Gifters, who spend lots of time but little money on crafts they give as gifts; Floral Fanatics, who like to save money, shop mostly in craft chain stores; and Sew Prouds, who are, like Stitch and Gifters, older than the average crafter.