---
Exercise: The Latest Addition to Game Time
Interactive Games Get Kids Off the Couch
"I don't agree that children are bored with traditional games or DVDs, but I do believe that kids love to run and be naturally active," — Nathan Ruff, Active Kidz Games

"PE class and organized sports aren't providing children with enough exercise," said Rae Pica, author and children's physical activity specialist. She pointed out that "physical activity has been shown to also improve academic performance and attitude toward school."

Traditionally, people have looked to games to sharpen their wits and hone their social skills. Now, they're demanding physical activity as well. Innovative manufacturers have managed to merge all three elements into modern indoor games.

The industry is delivering with several different types of indoor activity games. The most obvious types are all about exercise such as Fun and Fitness LLC's No Sweat … Go for Gold. In this traditional board game, players move around the board in an attempt to earn a gold medal. The twist is that they are required to perform simple exercises such as jumping jacks along the way.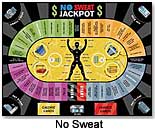 "I don't agree that children are bored with traditional games or DVDs, but I do believe that kids love to run and be naturally active," wrote Nathan Ruff, co-inventor of Active Kidz Games, another game that focuses on solo and team physical activities. "We split the games into two — indoor and outdoor — so children in apartments or with limited living space could still exercise with AK [Active Kidz Games] indoor, and the outdoor could be used more for parks and ovals with more kids involved."

Other games feature fun sports and activities that can be played indoors with the help of DVDs, video cameras and props. Both Konomi's Dance, Dance Revolution and Hasbro's Twister Dance DVD make players imitate dance moves viewed on the television screen. In Sony Eye Toy: Antigrav, played through a Playstation 2 console, players' movements are transposed to the screen where they "ride" a hoverboard. Similar techniques are used in Hasbro's Star Wars Lightsaber Battle Force in which players use a golf club and light saber to engage in onscreen events.

"We wanted to move [game time] off the kitchen table and into the living room," said Mark Blecher, senior vice president of marketing for Hasbro, of the interactive electronic games. The company's Candyland DVD Game was their first to target preschoolers, and new for 2006 will be the Pretend Along Friends DVD and, from their Playskool division, the ION Educational Gaming System.

Independent toy store owners have a mixed reaction over the exercise-friendly games. Andy Detling, owner of Whoops! & Co. in Minocqua, Wis., said he focuses on "more mentally stimulating games" and that "if Wal-Mart has it, I dump it."

However, Nancy Stanek, buyer and owner of Toys et Cetera in Chicago, said, "That would be about the only kind of DVD game that would interest me." She explained that although she feels that most electronic games promote passive activity, this kind would get kids up off the couch.

Blecher explained that it is possible to merge the best of board games with that of indoor activity. "The consumer experience was always connecting with family and friends," said Blecher about playing board games. "We wanted to keep the social aspect and make the experience much more active."


What follows is more information on indoor games that promote physical activity.









A small built-in camera places the child on-screen next to characters from his or her favorite television shows. Patented technology translates body motion into game play. The games combine learning pre-reading and early math skills with the body motions used to control the action. The system includes one Active Learning Disc with four games starring Nickelodeon characters. Additional Active Learning Discs directed at different age levels and featuring different characters are available for $14.99.

.

AD
---






This interactive DVD game of pretend asks children to imitate the behavior and sounds of characters on the television screen. Different segments include "At the Farm," "At the Zoo" and "In the Town." The game can be played either alone or with a group. Look for it on store shelves in Fall 2006.

.

AD
---






This game includes four individual dance mats where players perform dance moves they learn from on-screen instructors. Look for it in summer of 2006.

.

AD
---






Kids plug their plastic light saber into the television's AV input to fight on-screen with their favorite Star Wars heroes. Four "AA" batteries are required (not included).

.

AD
---






This new game combines the classic characters of the time-honored board game with the interactive nature of DVD technology. The game comes with one pop-and-play DVD, 20 gingerbread tokens and 24 floor mats to recreate the Candy Land game board in the home. Familiar characters lead children through three different games: King Candy´s Adventure Game, a color-matching game where children earn tokens for standing on the correct colors; Mr. Mint Says, a game of following directions, as youngsters only perform actions if Mr. Mint says; and the Grandma Nut Game, a unique version of musical chairs.

.

AD
---






Played with the Playstation 2 gaming system this game includes a USB camera that records and transfers the player's image onscreen. One to four players can ride a hoverboard using their body instead of a gamestick to balance and move the board.

.

AD
---






With this game that is played on a Playstation 2 console, players follow arrows and characters onscreen and dance on corresponding arrows on their dance pad. A USB eye toy camera puts their image onscreen where they can dance next to the onscreen characters. Dancers can perform solo, with another player and on differing levels of difficulty. The game includes more than 100 minutes of dance music and a workout mode.

.

AD
---






At first glance, No Sweat seems like any other board game. Two to six players earn money to go to the Track and Field Games. Then the first player to cross the finish line of the board's track is the winner. But along with the game board, dice and playing cards there is one other important playing piece — the player's bodies. Along the way to victory players are required to perform simple exercises such as toe touches and sit-ups.

.

AD
---






This game for one to six players is divided into three distinct categories. In the fitness category, players must perform physical exercises or activities: everything from sit-ups to dancing. For the teamwork section, all the players must cooperate to complete an activity. The nutrition category sneaks in a little learning as players answer multiple-choice questions. Instead of being active for only a few minutes and then sedentary as the other players take their turns, the entire group is active for a good portion of the game thanks to the teamwork category. The game even includes a tracking board where players can keep track of their accomplishments and compare them to their performance in prior games.

.

AD
---
THIS BANNER IS AN AD:
---
---