In addition to raising two girls, ages 7 and 2, Maryam Seyedhosseini has a degree in child and adolescent development from the California State University, Northridge. She currently teaches the arts to pre-kindergarten children and has previously counseled at-risk youth. Her background as a mother and as a childcare professional gives her a unique insight into toys. Here she shares her impressions of new toys with TDmonthly Magazine.
Stranger Safety by The Safe Side Company

Age: 5 to 10
Gender: Boys and Girls
Price: $19.98
First Impressions
This DVD is highly educational, and is good for alerting children and even adults about how to keep kids safe in the world. Stranger Safety's Safe Side Superchick, the zany lead character, presents important safety tips in ways kids can understand and remember by following The Safe Side credo: Smart. Cool. Safe.

Developmental Stage
Any child would learn something from this DVD. Even though it's recommended for ages 5 to 10, I think even a 3-year-old would benefit.

Skills Reinforcement
This DVD helps children develop common sense about how to deal with strangers. It emphasizes their inherent need to feel safe and gives them skills for attaining that feeling.

Playability
This DVD might be the best way of teaching a child about safety and strangers. My 8-year-old daughter belongs to a dance team. We had to go to San Diego over the weekend so we took the DVD along. She and her friend watched the DVD in the car at least three times and all they talked about was what they saw on the DVD. As soon as we got to a hotel and they saw their friends, they started giving them tips of how to be safe. They even started assigning their safe adult. By the time we came back, half of my daughter's team had watched the DVD and enjoyed it. While they were watching the DVD, they didn't even talk to each other, they just sat and watched it quietly.
I've never before seen this kind of common interest among children for watching an educational DVD.
Recommendation
THE BEST. In my opinion, every parent owes it to his or her child to buy this DVD. We need to realize that even though we talk to our children about safety it is also effective if they hear it from others.

PottyMate by Spitfire Ventures Inc.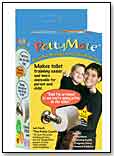 Age: 2 and up
Gender: Boys and Girls
Price: $14.95

First Impressions
This patented re-recordable toilet paper spindle is a very cute product. It plays whatever encouraging messages parents record. PottyMate also comes complete with a comprehensive guide written by a nationally recognized potty-training expert, and reward stickers. I think it's an interesting, innovative way to facilitate toilet training.

Developmental Stage
This helps children at the toilet-training stage and even beyond to develop self-confidence in their bathroom habits. It also reinforces hygiene by encouraging them to use the toilet paper.

Skills Reinforcement
PottyMate helps develop children's hand coordination. It also helps establish their independence, as they learn to use the toilet without Mom or Dad helping out.

Playability
The children loved to use the potty and clean themselves so they could hear the rewards recorded on the PottyMate.

Recommendation
This product is very helpful to reinforce the learning process associated with toilet training and good toilet habits.
Percilla the Gorilla Gift Set by Lisa Leleu Studios! Inc. (ToyShow)

Age: All ages
Gender: Boys and Girls
Price: $19.95

First Impressions
Fluffy Percilla is a removable hand puppet that comes with her own board book called "Slumber Party!" Also included is a "Lisa Leleu Story Starter," which kids can use to create their own stories for Percilla. This combination of a traditional storybook, puppet and another storybook that kids can actually fill out and write themselves makes a very interesting product.

Skills Reinforcement
Percilla the Gorilla helps children build their vocabulary. It reinforces listening skills as the story is read to them. It also builds motor skills when they use their hands to manipulate the puppet. The puppet can be used along with the story or by itself for imaginative games. The write-your-own storybook feature is great for imagination and pretend play. One little girl came up with a story about Percilla hiding under the bed, expressing her feelings about nighttime fears.

Playability
The puppet is a great narrator when it is attached to the book and helps the children become involved in the story. When removed from the book, the puppet is very easy for children to use and play with and is great for the imagination. The children in my class turned this cute little girly gorilla into a monster that chased away the other puppets.

Recommendation
This is a fun product for both children and adults to use.