"If you get [a game] to stick for a couple years, there's a good chance that it will be on the market for many, many, many years." — Phil Jackson, Mattel

These days, games are being marketed as entertainment for the whole family, and classic games are hotter than ever. Celebrity endorsements help to keep the category in the public eye, but there's more to it than that.


"We're having our most successful year to date, and we really believe it stems from a yearning for laughter, play and togetherness," said Heather Snavely, "head of the hive" at Cranium Inc. "Our family games are up nearly 100 percent. Families are eager to spend time together, and they're turning to Cranium because the experiences are fun and let everyone have their moment to shine."

Mike Knecht of Uncle's Games noted that he feels that classic games continue to be so popular because they are well known in the first place.

"Parents pass down the games they played as children to their own little ones, and other people are more likely to try something they've played before than something they've heard little about," he said.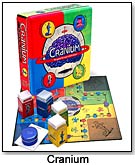 But how do games get to be classics, and how do companies keep them fresh through the years?

"There tends to be an evergreen nature to games," noted Phil Jackson, Mattel's vice president of marketing for games, interactive and youth electronics. "In other words, if you get it to stick for a couple years, there's a good chance that it will be on the market for many, many, many years."

According to Anne Yates at elearningtoys.com, all classic games have one thing in common — there are no changes in the core game or packaging.

Jackson agreed, and gave the example of UNO, which celebrates its 35th anniversary in 2006.

"UNO is the same game that it was 35 years ago," he said. "The packaging graphics have been slightly modernized, but essentially, nothing's changed. The other thing is the whole anniversary strategy — knowing that something has been in the market and enjoyed for 35 years really is a cause for celebration, because it's very rare in this world that things have that kind of staying power."

Companies also keep their classic games fresh by adding new features that keep up with the times. DVD features, for instance, are helping to keep the category fresh. (Click here to read more about this trend.) Game designer Tom Jolly, who created Wiz-War about 20 years ago, noted that his game was updated to keep it modern.


"Wiz-War was changed by changing the graphics to a more 'anime' look, since that seems to be the look that sells product nowadays," he said. "Drakon, another more recent game of mine, is getting miniatures added to bring up the quality factor."

"You need to keep your content fresh," said Jackson. "If there's going to be a Top 10 list — which is what Outburst is all about — of Mel Gibson movies, instead of just being Mad Max, you'd want to make sure that 'The Passion of the Christ' is in the game as well."

How do new games get the recognition they need?


"Unless it's based upon a movie or some incredible trend that's whipping through the marketplace, we try to position every game we launch to stand the test of time and be built upon an enduring play pattern," he said.


Knecht explained that, as an independent game store, Uncle's Games carries all the "tried and true" games, but he feels that the smaller games from independent companies, such as Cranium, set his selection apart.

"It's not the technology or the delivery medium that makes something entertaining," said Cranium CEO Richard Tait of his company's success. "Great entertainment experiences come from the social connections, the belly-aching laughter and the memorable moments that are shared among family and friends."

What follows is more information on traditional games, their updated forms and new games that may one day become classics.

.

AD

This game involves eight bouncing balls that players move according to the kinds of cards they draw. The point of the game is to send balls into other players' goals. The first player or team to score six balls wins. It was launched in fall 2005.

.

AD

.

AD

Chutes and Ladders is the game of rewards and consequences. As kids travel along the game path, they encounter situations that reward them for good deeds by letting them climb the ladders or punish them for misbehaving by sending them down chutes. All the while, they are learning to recognize numbers and count to 100. Included are a game board, spinner with arrow, four pawns and instructions in English and Spanish.

.

AD

An organic property trading game that will grow on you! Players buy garden favorites, collect clay pots and trade them in for greenhouses. Sounds easy enough but add aphid infestation, your water bill and a dandelion outbreak and it becomes a little more difficult and a lot more fun! Players also learn as they play! Each deed back contains interesting facts such as the appropriate climate, soil and watering for each plant as well as fun facts about origin, popularity and varieties. Choose your token and roll the dice. Who knows? You may be elected president of the Horticultural Society ... or you may be weeding and out of the game for three turns!

.

AD

Disney DVD Bingo is a new twist on an old favorite featuring favorite Disney animated characters and movie clips. Disney DVD Bingo is fun for all ages and encourages kids to get busy learning numbers, colors and matching skills.

.

AD

For 2 to 6 players, this game is based on the traditional Bingo format but substitutes famous pieces of American artwork for numbers. The caller will remove a card from the stack, and players have to match the painting on that card with the spaces on their own card. The first player to connect a row calls out "Palette!" and is declared the winner.

.

AD

Featuring chess pieces made of solid, nearly unbreakable pewter and a beautifully designed resin chess board, the Aliens Deluxe Pewter Chess Set features the space marines versus the aliens. This chess set captures the mood and design of the original Alien sequel, James Cameron´s "Aliens." The human side of the board features the design of the space station from the movie, while the sides of the board represent the gradual infestation of the station by the aliens. Within the infestation are human victims, either awaiting a face hugger or perhaps incubation by an alien warrior. This chess set will be available in two versions: one with painted pewter pieces and one even more limited version featuring polished pewter pieces. This set will be available for shipment in February 2006.

.

AD

This bonus two-pack features Uno and Kaboodl card games for hours of family togetherness. Kaboodl combines strategy and fun for 2 to 6 players. Uno is America´s No. 1 brand of family games and is easy to play with 2 to 10 players.

.

AD

.

AD

.

AD

.

AD

Guest Host, the Celebrity Talk Show Game, allows players to be host of their very own talk show. However, they don't always know the names of their celebrity guests. Players compete to guess the identity of the 500 guests that could be interviewed. Be careful, because the guest could be fictional, nonfictional, past or present (for example, anyone from Adam and Eve to Zorro). The player that reaches the desk by correctly identifying guests becomes Guest Host of his or her own talk show. Featured on the "Tonight Show With Jay Leno," this attractively packaged game plays extremely well.

.

AD

.

AD