The homeschoolers had their creativity and nimbleness tested with new puzzles, games and construction toys. The favorite for fun with everyone was Zoomorphs by River Dolphin Toys. Next in line were the mind-stretching Lonpos 101 by Mic-o-Mic Americas (ToyShow) and Mythmatical Battles by 4R. Once more, the tweens most appreciated toys that allowed them to play in many different ways over a long period of time and use their imaginations or test their wits.
Participating were former art teacher Lynn Costine with Sarah (12 years), Anna (10), Emily (8) and Will (6); former business owner Julie Petoia with Cabot Lee (11), Talia (9), Malynne (8) and Jeremiah, Jacob and Gabriel (all 4); Susan Ledford, editor of the Homeschoolers Resources Directory, with Victoria (10) and Joe (6); former corporate workshop manager Shawna Hughes with Alexa (10); and Allison Seagle with Sara (11). (Click here to view the full results of the survey: Homeschoolers Rate Toys.)
Lonpos by MIC-O-MIC AMERICAS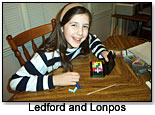 "There are not enough toys like this, that really stress spatial awareness skills," noted former teacher Costine. "The kids loved the progressive levels … They could compare their abilities."
"The Lonpos 101 is a wonderful puzzle," seconded Seagle. "The child is able to start at an easy level, and as she improves she can make it more challenging."
"It is little and portable," said Petoia. "The kids can play it for a long time."
"This toy has not been put away since we got it," continued Costine. "Someone takes it out every day."
"I've got it after you!" cried Emily (and all the Costines).
"This is so perplexing," said Victoria. "How did they think of this?"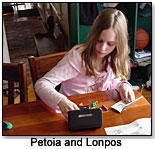 "Alexa liked it a lot," commented Hughes. "Those type of puzzles easily frustrate her so she isn't too likely to request something like that, but it is a good design for that type of toy."
"This is a great toy because it appeals to a wide age range, up to and including adults," noted Petoia.
When asked how to improve the toy, Victoria suggested that the puzzles include spheres and cubes. Hughes said it might be best to have the puzzle problems printed on cards rather than in a booklet, so that kids wouldn't lose their place as easily.
Ledford's children were "very likely" to want another toy like Lonpos 101. Costine, Petoia and Seagle agreed.
"This is really fun! I like this," concluded Sara Seagle.
Mythmatical Battles by 4R

"These pictures are so cool!" enthused Anna.
"All of the kids just like just paging through them," noted her mom.
"We enjoyed reading about the various gods and heroes on the cards," noted Hughes.
"The children are simultaneously having fun and practicing multiplication skills," said Ledford.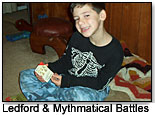 "A couple of years ago, Sara was very interested in the Pokémon cards," remembered Seagle. "I wish I'd had this game then … it would have made learning her multiplication tables more enjoyable."
"Joe liked playing the actual game … doing the battles, as he put it," said Ledford. "Victoria enjoyed the information about the gods and goddesses, especially those that aren't as common."
"I shall destroy you with the Hydra!" threatened Joe.
The Petoias found that they wanted to read the cards as they played the game, which slowed down the play. Alexa thought there wasn't enough chance to the game. Her mother suspects she lost interest because she already knew her multiplication tables.
"It would be great if there were more sets of these cards that emphasized different skills, such as more complex problems that the kids would need paper to solve," commented Costine.
Both of Ledford's kids had already requested new sets of cards. Costine's and Seagle's children were also looking forward to new sets.
"Overall, this game was tremendously enjoyed by my children, and I enjoyed that it developed their quick-thinking multiplication skills," concluded Ledford.
Nightmorphs and Petmorphs by RIVER DOLPHIN TOYS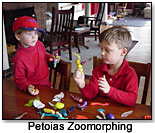 Costine and her husband, Andy, had a little trouble relinquishing the Zoomorphs to their kids:
"This toy is just so entertaining," she exclaimed. "We have them in a basket on the coffee table, and everyone plays with them. We create creatures while we are talking on the phone, in between tasks, listening to music and just hanging around."
The Zoomorphs' creativity, ease of use and wide age appeal were big pluses in Petoia's multi-child home.
"Sara and I both like the way the toys are made to move," commented Seagle. "The pieces are soft and flexible."
All of the kids were fired up by the creative possibilities of the set.
"Any animals can fly if you put wings on them," noted Emily.
"How many legs can a bug have?" Will wanted to know.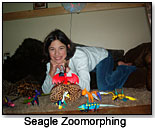 "It's a vampire dog-cat!" cried Victoria.

"Watch out for my duck-gila monster!" warned Joe.

The parents agreed that they didn't care that the toys weren't particularly educational.

"I did discuss animal family characteristics some with my youngest child," said Costine. "But much of the fun is from making fantastical beasts."

Sara Seagle had already bought more Zoomorphs sets and all of the other kids wanted more, too. "Sara's only complaint was that the pieces fell apart when she moved them too much and it made playing with them difficult," said her mom.

"Alexa thought it was an amazing toy. We loved the colors and variety of parts," concluded Hughes.

What follows are more detailed descriptions of the toys the homeschooling families evaluated, as well as other products by the same manufacturers:

This card game teaches multiplication while educating kids and adults on the gods, goddesses, heroes, monsters, minions, weapons and magic of Norse and Egyptian ancient cultures. Players compete, each using a different deck, to plunder each other's spoils using the strengths of each character card in their deck. Hidden within each deck is a mysterious adventure card that players can use to solve a special secret. Great for schools, this game would also work well for anyone who's inquisitive about ancient legends and mythology. Mythmatical Battles was called the "flashcards of the future" by Scholastic Magazine and has won multiple Educational Toy Awards.

.

AD

.

AD

As the first educational dueling card game, Mythmatical Battles uses classic mythology from diverse cultures to teach multiplication facts. The product is available in two versions: Celtic/Greek and Norse/Egyptian. The mythology puts a new twist on flash cards, which is why Dr. Toy and others have honored this game. It's the perfect game for kids obsessed with collecting cards but bored by memorizing multiplication tables.

.

AD

.

AD