Tools:








TDmonthly's Top 10 Most Wanted Playsets
Something New, Something Tried and True
This month, TDmonthly asked a select group of retailers across the nation two questions: "What playsets sell particularly well in your store," and "What will you be stocking up on after viewing new products at Toy Fair?" These are their picks for 2006. Some product lines will be plenty familiar, but others may be a bit surprising. All have the potential to sell well at your store.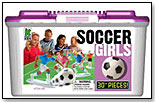 Included in the handy plastic storage bin are enough players to field two separate teams. Each package contains 24 players, one referee, two soccer goals/nets and a 24" by 36" washable felt field. Each figure is 2" high, sturdy and very easy for children to manipulate. Soccer Girls was also featured in the December 2006 issue of Better Homes & Gardens® Magazine. Soccer Girls® was included in a list of 30 toys that were picked by the magazine as "the most engaging toys parents can put under the tree this year".(2006)
— These playsets sell well for Katie Frederick, owner of The Wooden Rainbow in Cedar Rapids, Iowa.
— Andy Brown, owner of Wellesley Toy Shop in Wellesley, Mass., said "they're nice 'cause they're something different" of the Kaskey's Football Guys. He added that he'll be stocking up on Soccer Girls.
— Soccer Girls won Creative Child Magazine's Toy of the Year Award in December 2005.

ToyDirectory Product ID#: 7023

(added 2/27/2006)

.

AD
---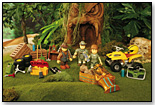 MSRP: $19.99

Age Range: 3 and upLaunch Date: February 2006Gender: Boys And Girls





This unique playset includes three explorer figures and more than 30 accessories including an ATV, crypt, mummy, crates, tools and more. It began shipping in February 2006.
— Nancy Stanek, buyer and owner of Toys et Cetera in Chicago, said "we've received a really good response on them" and that the product is being marketed as "more realistic and highly detailed" than its top competitor.
— Shelley Hawkins, sales associate with Toys to Treasure in Evansville, Ind., said, "they're doin' really well. We're looking forward to the new stuff [for 2006]. It looks really cute."
— With regards to this line, Mrs. Grafton Stine, co-owner of Toys on the Square, Unusual Toys & Pottery Painting in Hummelstown, Pa., said, "We're seeing a lot of excitement about it."

ToyDirectory Product ID#: 7024

(added 2/27/2006)

.

AD
---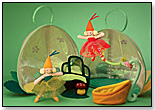 The shimmering decorated plush fairy house opens fully to reveal a fantasy world containing two Forest Fairy dolls, a vanity with mushroom stool, a flower, a shower and a swing. The all-in-one set is 24 centimeters tall.
— Products from this line already sell well for Matthew Macdonald, owner of Wooden You Know in Maplewood, N.J., and Macdonald plans to stock up on new products from the line that caught his eye at Toy Fair.
— Mary Tague, owner of Toy Town Inc. in Key Biscayne, Fla., said she hasn't done these but that fairies are popular in other forms at her store.
— Sandy Kozlowski, sales associate at Toy Loft Ltd. in East Aurora, N.Y., said that her store has entirely sold out of its fairy-themed products and that it will be getting more in soon to meet demand.

ToyDirectory Product ID#: 7026

(added 2/27/2006)

.

AD
---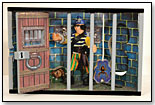 An add-on to the Pirate Scapes series of interconnecting play sets, this set features Stede Bonnet who escapes through a hidden door. He suffers the company of a removable rat and spider that can fit through the playset's bars. The product sells for less than $20.00.
— Katie Frederick, owner of The Wooden Rainbow in Cedar Rapids, Iowa, said this line is extremely popular right now.
— Jean Zoeller, co-founder of Toys & More in Wappingers Falls, N.Y., said that although she does not carry these in her store, she has heard good things about the line.
— A number of other retailers mentioned that pirate products in general are extremely popular these days.

ToyDirectory Product ID#: 7027

(added 2/27/2006)

.

AD
---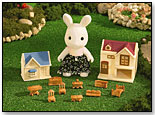 This is the newest "ready-to-play" set from Calico Critters. Susie Snow-Warren likes to spend all of her free time playing with her dollhouses. The set includes Susie, two miniature dollhouses and nine pieces of tiny furniture for the dollhouses — all scaled to Calico Critter size. She was launched at the 2006 Toy Fair in New York City.
— According to Shelley Hawkins, sales associate with Toys to Treasure in Evansville, Ind., this is the playset line she would play with if she were still a little girl between the ages of 3 and 11, and they're selling well in her store.
— Mrs. Grafton Stine, co-owner of Toys on the Square, Unusual Toys & Pottery Painting in Hummelstown, Pa., said her store ordered new products within this line for 2006 based on the brand's past success.
— Nancy Stanek, buyer and owner of Toys et Cetera in Chicago, said that this is the leading girls' playset at her store.

ToyDirectory Product ID#: 7028

(added 2/27/2006)

.

AD
---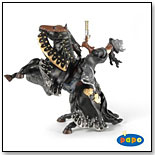 Hand painted and wearing a black cloak fringed with grey, this dark steed from Papo wears a leather mask to match that of his rider (sold separately). He is one of 85 new Papo figures to be released in 2006 and comes from Papo's Fantasy Collection. "The Medieval Collection as well as the Fantasy Collection are fighting it out for top category, especially with all the new introductions this year," said Larry Hotaling, president of Hotaling Imports.
— Nancy Stanek, buyer and owner of Toys et Cetera in Chicago, said, "that's the one that we do a pretty heavy volume of … It's a nice price point; kids can buy a figure and add it to their collection."
— Rene Nordhus, co-owner of Toy Zone Inc. in Rochester, Minn., said she ordered knights and castles from the company after seeing their product line at the 2006 Toy Fair.
— Sandy Kozlowski, sales associate at Toy Loft Ltd. in East Aurora, N.Y., said Papo does very well at her location and that the knights sets in particular do well.

ToyDirectory Product ID#: 7030

(added 2/27/2006)

.

AD
---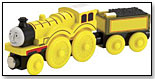 New for 2006, Molly is a large, powerful, bright-yellow engine. She's proud of her strength and is also sensitive. Molly is distinct in her color and styling from any other engine on Sodor, and is 7" in length.
— Shelley Hawkins, sales associate with Toys to Treasure in Evansville, Ind., said she recommends the figure eight sets for children aged 3 to 7 who are just starting out with train sets.
— "This has been our no. 1 top seller for the past 10 years," said Rene Nordhus, co- owner of Toy Zone Inc. in Rochester, Minn.
— Molly debuts in the "Tales From the Track" video that launches in Spring 2006, which will likely increase customer demand.

ToyDirectory Product ID#: 7031

(added 2/27/2006)

.

AD
---
Catalog Request Form
THIS BANNER IS AN AD:
---
---