"My idea was to create a fun game and also have something meaningful that you'd learn kind of by accident." — Paul Mistor, Wagadoogoo! Inc.

These days, former president Jimmy Carter and his wife, Rosalyn, travel around the world without leaving the comforts of their own home. Youngsters are learning facts about other countries without studying a textbook. Somehow, distant places seem just a little bit closer, thanks to the game Travel Mania, created by Paul Mistor, president and founder of a company with a name like no other — Wagadoogoo! Inc. (ToyShow)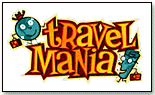 "It's a real word," Mistor explained. "It's a West African word from the tribe of Moore. Roughly translated, it means 'welcome to the world of fun and learning.'"
Mistor has an undergraduate degree in electrical engineering and an MBA. His move to the toy industry was born out of the combination of his years of travel and his involvement with his nieces and nephews.
"I have 11 nieces and nephews, and for the past 10 years, I've done a bunch of projects for them — whether it's individual books or puzzles," he explained. "I also traveled a lot."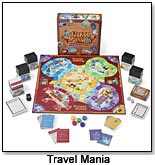 As he traveled, Mistor noted that he always sent postcards and made an effort to teach his nieces and nephews something about the world.
"I felt that I always learned something whenever I traveled to new countries, whether it was parts of a language, a little bit about the history or a little bit about geography," he said. "I was looking for a way to convey that information to my nieces and nephews."
Mistor said that he decided on a game because he had spent a lot of time playing the game Risk when he was growing up.
"The interesting thing about that," he noted, "is that people who played Risk always knew where Madagascar was. My idea was to create a fun game and also have something meaningful that you'd learn kind of by accident."
The result was Travel Mania. Players travel around the world and collect passport stamps and visas by landing on a specific country or space on the board. Five different continent groups include Europe, Asia, Africa, Oceania Antarctica and the Americas.
"We started the company in 2004," Mistor explained. "We thought it was a neat idea, but it took us about a year to put the game together, as far as the questions, the illustrations and refining the concept."
Mistor feels that the game is selling "better than average" for the first season. He noted that the tough part is getting people to know a little bit more about it and actually try it.
"Most other games you see, especially in this category, are kind of cheap," he said. "It's definitely a higher quality, heavy duty game."
He noted that the game is sort of a combination of Trivial Pursuit and Monopoly. In order to get a visa, players must answer a trivia question about that particular part of the world.
"We have four different categories of trivia right now, and they're all multiple choice," Mistor said. "Usually one or two answers are funny or sarcastic, and then we give the answer on the back, and most of the time we give a little explanation of it. There is also a Looney Luck strategy, where you can actually steal the visas from your opponents."
Travel Mania is currently recommended for ages 8 to adult, but Mistor noted that he is working on a version for younger kids. He enjoys the feedback he has gotten from fans of the game. Jimmy Carter wrote that it was "a welcome addition to our collection." Other notable owners of the game include Sandra Day O'Connor, James Earl Jones and Maya Angelou.