Yes, you read correctly: We here at TDmonthly are celebrating ToyDirectory's 10 successful years of serving toy retailers and manufacturers via our Web site. To commemorate the event, we will be providing you with one article a month discussing new and updated features available on our site that will help make your life in the toy lane easier.
This month, we'd like to tell you about our brand new Forums.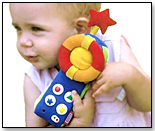 A long-time toy retailer told TDmonthly Magazine the other day that he wished there were a place for retailers to cross-reference information on vendors and toys. A place where they could find out about the hottest new thing. A place where they could gripe. Well, we have now created just such a place….
TDmonthly Magazine's useful new Forums let retailers and vendors talk directly to each other about what concerns them most: how to make, find and sell the best toy products in the world.
Just click on the blue "Forums" tab above the TDmonthly Magazine logo. If you're registered as a Retailer or Manufacturer, you're all set to begin the dialogue. If not, take a few minutes to register and you'll be ready to go!
Forums include "New Toys to Look For," "Manufacturing Matters," "Chinese Toy Manufacturers Discussions," "Retailer Chat," "What's Selling?" "Complaints and Rants," "Beginners Corner" and "Jobs & Opportunities."
There's even a forum for "Suggestions & Feedback" so you can tell us at TDmonthly what you like, what you don't like and what you wish you could see in our magazine.
Best of all, if you have a question that no one can answer, TDmonthly will try to answer it for you. So be among the first to start the dialogue rolling and join in the TDmonthly Forums today!

Click here to read next month's 10-Year Anniversary article.