Watch out, Hexabits are addictive!
Flexible tiles with an amazing interlocking design, Hexabits (ToyDirectory) are the latest evolution in building sets. Heralded by teachers, Hexabits are used in schools for both learning and playtime. Parents love the soft, pliable pieces and the focused play that Hexabits provide. Children are motivated by the exciting designs and vibrant colors. Hexabits build fine motor skills, promote creativity and inspire the imagination. Even seniors enjoy expanding their craft horizons. Hexabits kits come in various sizes from starter sets to buckets of fun. Hundreds of designs available from animals to sports to holidays. Follow their patterns or create your own!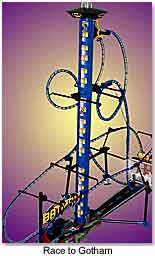 To the Roller Coaster, Batman!
Batman Race to Gotham City, the world´s tallest roller coaster race set, will debut this week at the American International Toy Fair in New York. Introduced by Best Pals Inc., this roller coaster playset combines the creativity and imagination of a building kit with the excitement of a race set. Batman Race to Gotham City stands over six-feet tall and lets kids battle Batman against The Joker™ and The Penguin™ as they race through Six Flags Gotham City with lights, sounds, and fast-paced action in the industry´s first dual-track, linear-lift-and-launch system powered by an electromagnetic current.
Storyboard Toys Builds onto the ArtHouse "Kid-Customizable" Toy Building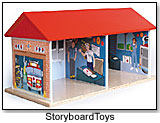 Storyboard Toys (ToyDirectory) announces three accessory décor kits to transform its ArtHouse—a toy building constructed in "dollhouse" scale from birch wood designed to display children's artwork—into horse stables, a 19th century Japanese home or a Viking longhouse. Each kit includes play-ready full-color artwork, as well as art and social studies lessons, and project-oriented activities designed to engage children ages 6-12. ArtHouse is compatible with popular dolls, action figures, and all styles of dollhouse furniture, and can be stored and transported in its rugged carrying box. ArtHouse has been awarded Dr. Toy's Best Children's Vacation Products 2003 Award and a Parent's Foundation Award.
KnuckleStrutz Premieres New Construction Kit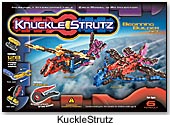 KnuckleStrutz® can rotate and twist in thousands of ways while still connected. Using dynamically movable connections, children of all ages can create "morphomechanical" models that collapse, expand, transform and re-shape into all kinds of configurations. KnuckleStrutz® construction kits include ChangeLinkz, a 32-piece set, Beginning Builder Set, which comes complete with 128 pre-snapped pieces, and MorphoMechanics, a kit with 512 pre-snapped pieces.
CoolBlox Reveals the Next "Little" Thing: CoolBlox Mini

Award-winning CoolBlox Corporation (ToyDirectory, ToyShow) is geared to launch the CoolBlox Mini at the 2004 Toy Fair. The CoolBlox mini is a smaller version of their hugely popular CoolBlox line of soft building blocks for children. The CoolBlox system features brightly colored, soft foam bricks that lock onto each other with puzzle-like prongs and grips. They come in three basic styles, varying in the number of prongs and size of the brick so they can be stacked and attached at 90degree angles.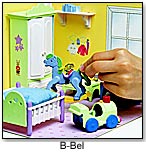 Trading Spaces Scale Model House Marketed by Toy Company
B-Bel Inc. (ToyShow) has teamed up with the Discovery Channel to market a model design house based on the hit series Trading Spaces. The brand includes the Trading Spaces Design and Redesign Houses and Rooms, along with related items such as The Designer Family and Garden Terrace. The kits come with design materials including paint, paint rollers, stencils, stickers, stamps, yarn for weaving, and modeling dough to create the look kids want. The paints wipe clean from the walls and furniture, and the stickers are removable. All houses are modular; rooms are interchangeable and can be added at any time.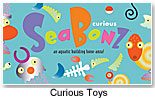 A Building Bone-anza
Curious Toys introduces Seabonz, the latest in the award-winning Bonz line of construction sets. 50 pieces of maritime, jiggly, jelly, slithery, no-spiny anatomically incorrect pieces that interconnect with bendable socket joints. Kids can combine these with other Bonz sets.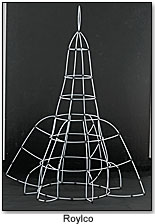 Build…Even in the Dark!
New from Roylco (ToyDirectory), the Glow-in-the-Dark Straws & Connectors are simple building tools that allow children to design buildings and engineer aircrafts. This fun and economical building set is appropriate for a wide age range. The set comes with 150 glow-in-the-dark straws and 80 black connectors.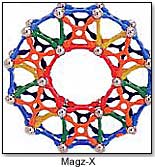 "X" Marks the Spot
Throughout the year, MAGZ, a construction toy by Progressive Trading Co. (ToyDirectory, ToyShow), has topped specialty retailers' lists as a best seller. Their new construction set, MAGZ-X, features x-shaped pieces with magnets on all four corners, in additional to the traditional sticks and balls. This hands-on toy fosters imagination and creativity as well as enhances a child's understanding of shapes and geometry. MAGZ-X come in sets of 42, 74 and 106 pieces.

Move Over Game Boy, Here Come Clics
Kids will be putting down their hand-held video games and reverting to good old fashioned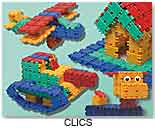 imaginative playing with Clics, a new and unique construction toy developed in Belgium and currently imported to the U.S. by TSCI Global Inc. (ToyShow). Boys and girls are quickly taking to the high-quality construction toy, which helps in developing artistic skills, as well as arithmetic, science and problem solving. An added plus: Clics are compatible with most building sets, such as LEGO and K´NEX, and can be easily clicked together (perfect for small hands). From rocket ships and cars to robots and buildings, there is no limit to what children can imagine and create with Clics.
Creating a Wonderful World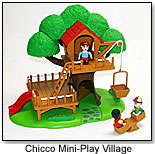 Chicco (ToyDirectory) has brought back their hugely popular Mini-Play Villages with six new "real life" playsets. Children can create their own Mini Villages, including an Airport, Shopping Mall, Pizza Parlor, Tree House, Camping Set and Camper. The sets include characters with moveable arms & legs and freewheeling vehicles. The sets help children to role-play real life experiences that involve observation ability, stimulation of imagination, problem solving, social interaction, language capability and will help little fingers develop fine motor skills as well as creative, tactile, and visual skills.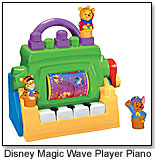 Mega Bloks Keep Kids Building
Mega Bloks (ToyDirectory) is launching a series of building toys and construction sets for Spring 2004. Included are Build Bigger than Me, a colorful assortment of 80 blocks; Lil´ Vehicles - Cement Mixer, which includes a cement mixer, a Blok Buddy figure and 15 blocks; the Tiny ´N´ Tuff™ Vehicle Sets (Construction & Farm), featuring easy to construct farm vehicles and construction trucks combined with decorated building blocks;Disney Soapblocks Racers™ , where children get to participate in a race between Pooh and Tigger. Sets come with six Maxi bloks to create the racing scene; Disney Magic Wave Player Piano™, where kids can improve dexterity, create melodies and watch Disney characters dance along to Pooh´s theme song.
Also from Mega Bloks, the ProBuilder® Air Force Warthog is a highly detailed air support fighter that comes with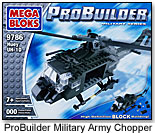 removable armaments, an opening cockpit canopy, and twin tail and double rear engine supports; the ProBuilder® Military Army Chopper, a toy inspired by authentic Army Choppers, includes turning rotor blades, removable machine weaponry, landing skids, and special matt finished blocks; Power Rangers™ comes to the construction category with action figures kids can build; Power Rangers Dino Thunder™ Brachiosaur, an easy to build play set, come equipped with compartments specially made to hold the three Dino Thunder Zords; Power Rangers Dino Thunder™ 8 inches Action Figure, featuring a 60 piece Power Ranger; Teenage Mutant Ninja Turtles™ Ultimate Combat Lair, where kids can build the Ultimate Teenage Mutant Ninja Turtles Battle Lair with sewer, garage entry points, and sparring apparatus; Teenage Mutant Ninja Turtles™ Battle Shell Bridge lets kids build the Teenage Mutant Ninja Turtles´ Battle Shell Vehicle with an opening turret for Leonardo, back door for fast escapes, and more; Teenage Mutant Ninja Turtles™ Extreme Playset Asst:Radical Ramp includes an urban ramp and drainage basin play set with Donatello; and the Pipe Fight, featuring a cool pipe and gravity pit with Casey Jones.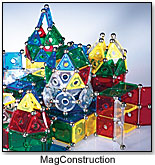 If They Build It, They Will Learn
New in 2004 from Educational Insights (ToyDirectory), MagConstruction features three separate colorful magnetic construction system sets. A series of multiple geometric shapes and a veritable rainbow of colors makes young builders imaginations run wild.