Youngsters want to express themselves; parents want to keep kids entertained. The solution: A variety of new activity kits guaranteed to beat boredom.
Sea No Evil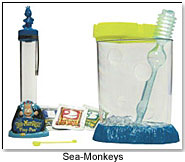 Sea-Monkeys were created in 1960 when scientist Harold von Braunhut observed eggs from a hybrid species of brine shrimp that had a long shelf life out of water and, once hatched, were easy to care for. Thanks to some clever marketing in the comic books and children´s publications of the day, a pop culture phenomenon was born.

Now, Sea-Monkeys are back and they´re better than ever. Kids will want to take their Sea-Monkeys everywhere with Educational Insights´ (ToyDirectory) new Amazing Live Sea-Monkeys Port-a-Pet Pocket Playpen (ages 6 and up; $22). Youngsters can hatch Sea-Monkeys in the tank, watch them double in size and then bring them to show-and-tell in the Port-a-Pet Playpen equipped with a red LED light, which can safely transport the ´Monkeys for up to 24 hours. Sea-Monkeys sets come with everything kids need to raise their own adorable aqua-pets. Most sets include: tank and ventilated lid, water purifier, Instant Live Eggs, Growth Food, calibrated feeding spoon, air pump, tank tool, built-in magnifier, LED light and instructions.

Other new Sea-Monkey kits from Educational Insights:

Executive Set (including a sleek black and gold tank that´s ideal for the office)

Pirate Gold (color-changing Sea-Monkeys and aquarium with hoard of gold)

Mars (Martian landscape tank)

Space Shuttle Expedition (shuttle-shaped tank)

Robo-Diver (send the RoboDiver down to feed Sea-Monkeys)

Sunken Treasure Ship Blister (includes ghostly galleon).
Create and Store Beaded Treasures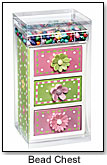 Kids will enjoy making their own jewelry and storing it in this adorable Hand-Crafted Bead Chest (ages 3 and up, $10) from Bead Bazaar that doubles as a jewelry box. Perfect for holding loose beads and other trinkets. Kids can design and create their own jewelry and have a place to store their treasures when they're done! Each chest is complete with enough materials for two to three necklaces or bracelets, including kit beads and string. The drawers of the chest are fully lined. Bead Bazaar's whimsical designs and innovative bead chests (available in nine different styles) make creative play entertaining and imaginative! Bead Bazaar also offers these new funky and Fun Bead Tubes (ages 3 and up; $1) that are perfect for party favors or stocking stuffers! Every tube includes beads, string and a charm for one necklace. Available in a variety of styles, the re-usable tubes with tops to match the charms on the jewelry can be used to store a bracelet or necklace.

For the Young Scientist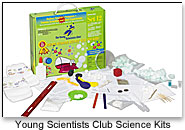 What do submarines, chromatography and capillary tubes all have in common? How does an antibiotic work? Why is Pluto cold and icy? Boys and girls will get hooked on science in a big way and learn the answers to questions like these with the award winning Young Scientists Club Science Kits (ages five to 12 ; $12.50 per set.) Designed by a team of Harvard grads, scientists, educators and parents, every kit contains hours of hands-on experiments that youngsters will want to repeat again and again. Unlike other store bought science kits, the Young Scientists Club's kits are set up as a continuous curriculum—they build upon each other and are interlinked—to maximize learning and fun! Sold in sets of three, each kit contains all the materials needed for the experiments (except for common household items), as well as easy-to-follow instruction booklets for parents and kids. With 12 sets and 36 kit topics to choose from, and their own instruction book narrated by Celsius the Science Bug, kids can learn about everything from scientific measurements, polymers and fossils to bacteria and human physiology.
A Far Cry from Grandma's Afghan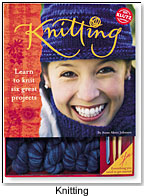 Kids and teens will love knitting with this easy to follow how-to-knit kit from Klutz. With clearly explained instructions and beautifully enlarged color photos, Knitting ($24.95; ages 8 and up), by Anne Akkers Johnson, takes kids from step zero to a final product they'll want to show off shamelessly to family and friends. This book comes complete with everything a novice knitter needs — worsted weighted yarn, knitting needles, a crochet hook, buttons and sewing needle — to create a one-of-a kind long skinny scarf, cozy winter beanie, cell phone sock, coin purse and more! This 96-page book teaches kids about the basics: rib stitch, purl stitch, darning, and more—without the hassle of confusing abbreviations, hard-to-follow diagrams or codes.
Utterly Charming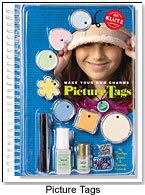 Klutz's new Fall line-up also includes Picture Tags (ages 8 and up; $19.95), a 40-page book that teaches kids how to turn ordinary metal-rimmed card stock into a zillion different picture tag charms. Kids can create everything from dangling charm bracelets, necklaces and pet I.D. tags to book marks, hair accessories and zipper pulls! Authors Marilyn Green and Theresa Hutnick include more than 600 decorative punch-out picture designs, perfectly sized and perforated, 24 metal-rimmed tags (including circle, square, heart and flower shapes), kid-safe finishing glaze, glitter, tiny rhinestones, jump rings and three yards of faux leather cord. The book also includes a tracing template and clever ideas for creating charms with pictures, maps, comics and magazines.
Transform Tees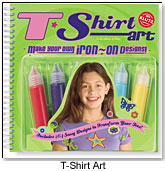 For fashion fanatics, Klutz offers T-Shirt Art (ages 8 and up; $19.95), an easy to follow guide to create original iron-on designs. This 60-page wire-bound book by the editors of Klutz includes everything kids need to transform tees into personalized fashions and works of art. T-Shirt Art comes with more than 100 cool design patterns, six bottles of colorful T-shirt art paints, protective ironing paper and plastic transfer paper to create washable iron-transfers for everything from t-shirts to backpacks, purses and sneakers. Kids can trace designs of all different motifs, including flowers, stars, surfboards, monograms, astrological signs, sports and catchy phrases.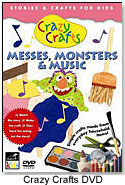 Kids can create their own characters and then bring them to life with Crazy Crafts DVD by Casablanca Kids (Gift Guide). The DVD shows children how they can use everyday items to make larger than life characters like "The Lonely Serpent," a lake serpent who goes in search of his family and encounters surprising events. Another aquatic highlight is the story of the "Prince of Whales" with craft characters such as the Whale, the Minnow, an octopus and a shark. Crazy Crafts follows the creativity process from conceptual design through production. It´s a great interactive project for kids, ages 3-9 years.