"I'm not an expert. I don't pretend to be. I'm taking the advice of the people around me. It's doing really well, so we're doing something right." — Cory Johnson, Biggles Toys

When Cory Johnson left a career with Amgen, a pharmaceutical company, to open his own store, he contemplated the decision with his business partner for a few months. He took a little Manhattan savvy, added a cuddly teddy bear, and Biggles Toys was born on November 1, 2005, in a city with a promising outlook in the midst of revival.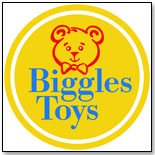 This Providence, R.I., store has already received a strong response. The concept for his trademark mascot, Biggles, came from an original concept for a self-published children's book, written and illustrated by friends. Johnson didn't want his to be a "regular" store. He wanted a reason for being there.
"New York has definitely had a huge influence on my perceptions of the world," Johnson said of the department store displays. "And I really wanted to have a fun toy storefront that kids could be drawn into. The kids out there … their noses are glued to the glass because they're just in awe."
This 2,000-square-foot store has a main area that showcases a Harry Potter castle and a commissioned mural with Curious George painted on the walls. The remainder is divided into themed rooms featuring Biggles Farm, a princess room, a pirate ship, an electronics-board game room, a nature room, and G.I. Joe and Star Wars sections. Johnson has eight employees and offers extensive customer service, including personal shopping, gift-wrap and free cookies with milk.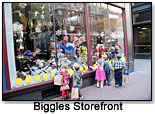 He doesn't rely on trends when making his decisions, but listens to representatives and manufacturers. His initial sales are high. "I'm not an expert. I don't pretend to be. I'm taking the advice of the people around me. It's doing really well, so we're doing something right."
His selection is vast with novelty toys not found elsewhere. Johnson uses cable, radio and newspaper, in addition to working with downtown organizations and businesses, to advertise.
"We have a Web presence and that helped stabilize the business as well because you reach a much larger market," he said. "And, hopefully, we'll be able to take it to a multi-store model as we build our name."
Already, Johnson is looking toward expansion, possibly into Boston. "We have had some people approach us for locations, and we've actually been seeking other locations. We're taking our time trying to find the right spot so that we don't make mistakes."
He attributes his immediate success to Providence.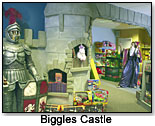 "Going into cities that are being revitalized where you can get a bargain on leasing is definitely an advantage," he explained. "It doesn't really depend on the size of the city. I think it depends on the economy of the city."
Johnson is optimistic about the future and mentioned that upper-end condos are under construction in the area, drawing a Boston bedroom market. "There are a lot of people moving into the city that have never lived in Providence or Rhode Island from New York or Connecticut. There's a large market here that's being built as we speak, and I think being a part of that has helped our store a lot."
Will he go to Manhattan …? If word of mouth keeps up, Manhattan may come to him.