---
TDmonthly's DVD Expert
Babies Bombard the Screen
"I'm up to my ears in babies!" I cry amidst the smell of fresh diapers and fresher faces. Every Hollywood mom wants her kid to be a "staahr," and they're starting them younger and younger. What's next, head shots from the sonogram?

Lots of DVDs reflect this trend: real video made for real babies. When well thought-out and aimed at the correct age with the correct images, they can be valuable for the market ... and an aid to the new parent.

Baby China by B_ME COMPANY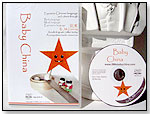 Age: 0 to 6
Gender: Boys and Girls
MSRP: $19.99

B_Me Star (an animated icon) opens this DVD with a heavy Chinese accent, so there's no doubt about what it's going to feature: Chinese, by Chinese, for Westerners.

The main body is broken into three parts — Body Language, Music Power and Expressive Language — each of which features a lovely narrator with a melodious voice. She speaks the words to be learned, and there are accompanying images for reinforcement (in the first part, she's also aided by sign-language hands).

A parent is necessary because the English word is never stated; it's simply spelled out on screen with the Chinese equivalent beneath.

Visually, it's the "Being John Malkovich" of baby DVDs: strange-colored drinks and pig toys with bath foam on them. A cute little kid (who makes cameo appearances) joined by another cute kid. Lots of Fisher-Price toys. Nice Chinese music in the background. It's all kind of ... odd. Cool, but odd.

Did I mention the candy? Gummy fish, jelly beans… and puppets, too: a pig and a frog. I'm not sure what they're doing, but they're funny. Then come the pandas! Cool and cute, even when gnawing on the zookeeper's ankle. There's also a parents' section.

Language exposure at a young age is a good thing, so … I like it. It's silly and weird. You have to see it to understand. But the little toy car driving across the cooked rice bridge is perhaps my favorite part.


| | |
| --- | --- |
| Budget | |
| Creativity | |
| Bells & Whistles | |
| Usefulness | |
---
Baby IQ: The World Around Us by BRAINY BABY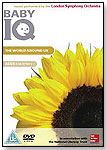 Age: 1 to 3
Gender: Boys and Girls
MSRP: $17.95

Brainy Baby has always been a class act: educational videos that aren't hard on the eyes and have wonderful music. The company's latest DVD line, the Baby IQ series (produced in association with the National Literacy Trust's "Talk to Your Baby" campaign) maintains the same standards.

"The World Around Us" features videos representing colors, animals, counting, seasons, movement, shapes and patterns, and makes use of every trick in the book, from puppets, to a little stop-motion, really neat goopy things, some CGI and live action.

Immaculately shot (although some of the puppeteers can be seen in-edge; a little contrast correction would have helped that), it features the wonderful London Symphony Orchestra (doesn't get much classier than that).

So, Brainy Baby does it again. Even if you don't have a kid, the music is wonderful, and it's mellow, soothing eye-candy.


| | |
| --- | --- |
| Budget | |
| Creativity | |
| Bells & Whistles | |
| Usefulness | |
---
Go Potty Go! by MAZZARELLA MEDIA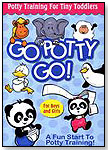 Age: 1 ½ to 3
Gender: Boys and Girls
MSRP: $14.95

The main section of this one-stop potty-training DVD features Page Panda and her twin brother, Parker, plus a moose, a penguin and other animals that enthusiastically run around in rudimentary animation. That's a good thing. The creators try to show that the Pandas are the same age as the viewers, to establish a bond and trust.

The DVD is narrated with rhyming phrases and songs/videos featuring lines such as "Potty chairs and big kid underwear." And they shout: "Go Potty Go!" And sing: "Go Potty Go!" Very kid-friendly.

First, the Pandas use kinda funny rhymes to explain where animals do their do thang. It gets viewers relaxed about going potty in general. Then they explain about potty chairs versus diapers and about growing up to go on the toilet.

Then there's video of real kids playing, explaining about diapers versus growing up, getting viewers ready to move onto the next step: the potty chair and big kid underwear.

There's a Big Kid Parade (with each big kid wearing his underpants of choice), a Potty Chair Game (recognizing a potty chair, wiping bottoms, washing hands, etc.) and finally: Go Potty Go!

The production is nothing spectacular, but the DVD looks to be a good tool for parents. Potty on!


| | |
| --- | --- |
| Budget | |
| Creativity | |
| Bells & Whistles | |
| Usefulness | |

"Babies! Tomorrow's theater audience and today's DVD." I like that quote; I think I'll use it in my next seminar. Until then, take a look at these baby DVDs. There are 45 kids born every 10 seconds — a growing audience I can relate to. Now, where did I put the number of that child prodigy director?
Writer's Bio:
Mark Zaslove is an entertainment industry veteran in developing content (writing, directing and producing television and feature films) for the major studios, including Disney, Universal and Warner Bros. A two-time Emmy Award winner for writing and recipient of the Humanitas Prize (for writing uplifting human values in television and movies), Mark is also Head of Content Development for Nice Entertainment.
Read more articles by this author
THIS BANNER IS AN AD:
---
---