Tools:








Kids Scoot on Bugs and Turtle Shells
New Ride-ons Give Classics a Run for Their Money
"[A Diggler scooter is] really cool — like a big skateboard." — Jeff Boyd, Peak-A-Boo Toys

With additional reporting by regional correspondents Dennis Furlan, Terri Hughes-Lazzell, Christine Lebednik and Brenda Ruggiero

Although classic ride-on toys and wagons from big companies such as Radio Flyer are selling well, 49 specialty retailers also told

TD

monthly Magazine that newer ride-on toys that put a twist on a traditional concept are picking up speed.

What's New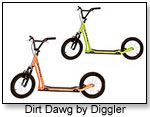 One new toy that seems to be selling well is a spin on the traditional scooter, according to John Allen of J.W. Allen & Sons in Park City, Utah.

"For older kids, I sell off-road scooters. The scooters from Diggler sell really well. They're like a cross between a skateboard and a mountain bike," he told

TD

monthly.

Jeff Boyd, owner of Peak-A-Boo Toys in Breckenridge, Colo., agreed: "It's got knobby tires, like a mountain bike. It's really cool — like a big skateboard."

Another take on the traditional is the electric-powered Vector "skoogo" — featuring elements of a scooter and a go-cart — by Innovative Transportation Vehicles.

Additionally, the Zogo and Zomgo Skateboards from ACT International (ToyShow) add a rope-and-pulley propulsion system to the basic board, for ease of operation that's ideal for beginning riders.

The Wheely Bug from Prince Lionheart (ToyShow) has also caught retailers' eyes. "Wheely Bugs from Australia…are bug shaped and fun," Dan Marshall, owner of Peapods Natural Toys & Baby Care in St. Paul, Minn., told TDmonthly.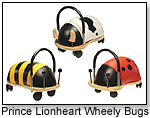 What's Selling

Sixty-nine percent of the retailers

TD

monthly surveyed mentioned Radio Flyer, indicating that the company's wagons, ride-on toys and even rocking horses continue to sell well. (See

TD

monthly's Top-10 Most-Wanted Sleds, Wagons and Trikes).

"Radio Flyer has a corner in the marketplace. They've been around for a long time," Boyd commented.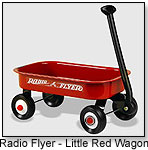 The PlasmaCar from Plasmart (ToyShow) may well be on its way to becoming a classic.

"PlasmaCars have gone just crazy lately. We sell a whole lot of them," Donna Dobkin of Leapin' Lizards Toy Company in Bend, Ore., told

TD

monthly.

Jude Larene, owner of Seattle's Izilla Toys, agreed: "I sell a lot of PlasmaCars."

Allen had some insight into why they're popular: "What's just great is that as you get used to it, they work by — wiggle and go. It's nice that you can ride them inside and outside. Even older kids like them — you can get up good speed on them. It's our biggest seller."

What to Make of It

Although classics such as wagons, sleds, ride-on cars and rocking horses continue to attract customers, toys don't have to be classic to succeed with buyers. The PlasmaCar and Diggler scooters, for example, give traditional a fresh twist, adding speed and a sturdiness that make riding around cooler than ever for today's smaller drivers.

Some of the toys retailers and manufacturers told

TD

monthly to watch include the following:







.

AD
---






.

AD
---






It's not hard to see what makes the Dirt Dawg different from other scooters on the market — there are simply no other scooters like this! The Diggler model offers a larger standing platform, suspension fork and mountain bike brakes to create a fun ride that is part scooter, part mountain bike, part skateboard and all fun. This hard scooter is stable and offers powerful tires and a stable ride that is perfect, even on rougher terrain. A range of colors makes it easy to select the right style.

.

AD
---






.

AD
---






.

AD
---






.

AD
---






.

AD
---






.

AD
---






.

AD
---






.

AD
---






Our CATERPILLAR® Tractor is for kids but I just like the real thing! With a first of its kind back hoe digger included, a fully functional front loader, and a hood that lifts, this tractor will stretch your child's imagination to its limits! Made in Germany and constructed of high impact resin, its sure to last. Recommended Ages: 3+

.

AD
---






Made in Spain, this motorcycle can go up to 4.5 miles per hour. The battery will last for up to two hours of riding time. The vehicle does not go in reverse, and a charger is included.

.

AD
---






.

AD
---






A child's first ride-on motorcycle, the Ducati Monster features two-position adjustable side training wheels, accelerator sounds, colored headlights, blinkers and a working horn. It helps develop coordination and creative and social skills, and is suitable for children 18 months and up.

.

AD
---






This pedal cruiser with an adjustable frame features a unique steering system composed of vertical handles on both sides of the driver's body. The Triton is said to be smooth-riding, safe and easily maneuverable. And riders can get a cardiovascular workout while they're cruising around. It is available in red, blue and silver. Launch date: December 2006.

.

AD
---






.

AD
---






This black beauty heirloom is built with quality steel construction. Authentic character includes enamel paint, chrome windshield, steering wheel and hub caps, padded seat, solid rubber tires and adjustable five-position pedals. This toy's safety has been tested and approved, though adult supervision is required.

.

AD
---
Catalog Request Form
THIS BANNER IS AN AD:
---
---