---
How to Publish a Card Game
Industry Experts Tell How to Shuffle Up Success
"You can save yourself thousands of dollars by looking at the paper and materials." — Chris Stratton, Graphic Converting

You may have had a great idea for a card game, secured investment and funding, and even completed the design. But until the cards have been printed and cut, your game isn't fit for the table.



How do you ensure quality, cost-effective production in these crucial last steps?

Lance Williams of Avalon Innovations and Chris Stratton of Graphic Converting discussed the ins and outs of card game publishing as part of the Profitable Game Publishing Track series at Games Expo last month.

Here's what they said: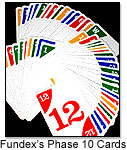 1. Beware of limitations. When deciding between short- and long-run printing, Williams advised, make sure you know the limitations of short-run. Check into paper thickness, coatings and how the cards will be cut.

2. See where you can save money. Product engineers at Graphic Converting take "your number of images [and] the insertion levels you want and say, 'Here's the best way to save yourself money,'" Stratton said, adding that vendors may even be able to help with game development.

3. Give extra thought to material. "You can save yourself thousands of dollars by looking at the paper and materials," Stratton said. Playing card stock is very expensive, he pointed out, and "if your game doesn't shuffle, you may not necessarily need it."

4. Ask vendors for sample coatings. Types include a standard playing card coating, a higher-wax slip-type coating used for poker, and a UV coating that gives trading cards a high gloss.

5. Stick with your printer. "Most likely, you're going to want the same printer printing you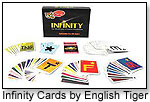 r card game and expansion pack," Williams said. "If you do decide to change," Stratton warned, "there could be differences initially due to press characteristics."

6. Don't be random. "Randomization can be more expensive than customizable packs," Williams said, so think about what you need. As a side note about collation, Stratton noted that "nothing is random; it's very scientific [and] planned out."

7. Think about display. "A lot of retail space is a premium," Williams said, noting that a hang-tag might work best for big-box retailers such as Toys R Us or Wal-Mart, whereas hobby stores might opt for on-shelf display.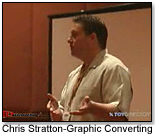 8. Request quality checks. Graphic Converting conducts multiple documented quality inspections and invites clients to view quality stations, Stratton said. "When we're packaging, the pallet is checked no less than three times."

9. Accept imperfection, but not much. With slip and color variation, "you're worried about … how it actually looks to the naked eye," Stratton said. It's normal for cut cards, for example, to be off by a width of two human hairs. Contractual agreements may address acceptable variations.

To see video footage from the presentation, click here.

Writer's Bio:
Julie L. Jones has written articles for both newspapers and magazines. Before joining the staff of TDmonthly Magazine, she worked as a communications writer and provided editorial support for a market research company.
Read more articles by this author
THIS BANNER IS AN AD:
---
---