---
Dolls: Teaching Unselfishness
P31 Doll Focuses on Generosity
[Grandmother Ruth Mandt] appreciates that the doll takes the focus off clothes and boys, and encourages girls "to think of others."

This month,

TD

monthly Magazine's Dolls Roundtable participants reviewed the P31 Elizabeth "Pure Heart" doll by One2Believe. Elizabeth is part of an exclusive new line of quality dolls featuring 19.5"-tall characters that each come with an accessory item and activities designed to help teach girls of today to become the Proverbs 31 women of tomorrow. Most reviewers appreciated the "cute" appearance and playability of the dolls, while the girls enjoyed making cookies and focusing on helping others.

Roundtable participants included Ruth Mandt with her granddaughters Paige (6) and Brielle (10); grandmother Barbara Smith; Amanda Forrest with her daughters Sydney (7) and Savannah (6); Kim Hobbs, owner of Hobbs House of Dolls in Marietta, Ga.; and doll collector Brenda Oxford.



TD

monthly rating:



Watch Video
Playability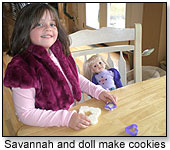 "Pure Heart Doll" comes with cookie cutters and a recipe, and 6-year-old Paige McQuirt reported that she liked making the cookies.

"Paige and Brielle loved the doll, and doing things to help others made them feel good about themselves," grandmother Ruth Mandt said, adding that she appreciates that the doll takes the focus off clothes and boys, and encourages girls "to think of others." She gave it the highest rating: 5 stars.

Amanda Forrest, mother to Sydney and Savannah, said she liked the doll because it's "light and easy for the child to carry."

Sydney let her 6-year-old sister have the doll because she "really fell in love with it."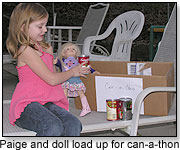 Savannah enjoyed putting it to sleep in a doll crib, and appreciated its go-to-sleep eyes.

Value

Grandmother Barbara Smith said she thinks the doll is cute, but believes the construction could be a little better. Nevertheless, she rated it high, with 4 stars.

And though collector Brenda Oxford said the doll is not a collector-type, she noted that she would buy it as a gift, and gave it 4 stars.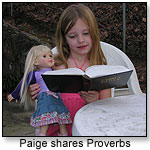 "The message is good," she said, "and it is a good teacher for girls."

"I do not see the religious tie-in of the cookie cutter and recipe," retailer Kim Hobbs pointed out, but mentioned the doll might sell well in Christian bookstores. She gave the doll a "3" rating.

Possible Improvements

Hobbs thought the doll has a cute face, but noted that its clothes could fit better.

And Mandt suggested "adding a doll diary … so the girl can keep a record of what good deeds the doll and she did to help others."

Writer's Bio:
Virginia Davis is a freelance writer who is considered an expert in the area of dolls and collectibles. She has written hundreds of articles on dolls and toys, as well as other subjects, for numerous publications. She lives in Georgia.
Read more articles by this author
THIS BANNER IS AN AD:
---
---