Tools:








Sudoku Takes a Slide
Puzzlewise, Retailers Stick With Flats and Faves
"I think Sudoku is on its way out the door." — Roger Lee, Olney Toys

With additional reporting by regional correspondents Virginia Davis, Dennis Furlan, Christine Lebednik and Brenda Ruggiero

As the industry welcomes the addition of several new puzzles, just as many pieces — including some that bear the name Sudoku — are becoming misfits in the specialty market, a recent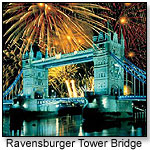 TD

monthly Magazine survey of 36 retailers revealed. Top-sellers Ravensburger, ThinkFun (ToyShow) and others cooperatively cover every age group of puzzle-lovers, maintaining diverse selection amid change.

What's Selling

Half of the retailers surveyed cited Ravensburger as a strong seller.

"Ravensburger customers are definitely loyal, so they'll keep buying," Frances Finfrock, owner of Aunt Franny's Toys in Richland, Wash., explained to

TD

monthly.

Serendipity Puzzle Co. and Buffalo Games (ToyShow) puzzles are popular at a few shops, but many retailers, including Amy Barrett, owner of Lasso the Moon Wonderful Toys in Helena, Mont., prefer to "ThinkFun."

"They always come out with new stuff," Barrett said.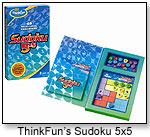 ThinkFun games "are more manipulative and spatial," added Joel Hardy, co-owner of Magpie Toys in Red Lodge, Mont. He recommended the Raging Rapids game for developmental play.

"I sell quite a few wood puzzles to therapists," noted Cheryl Richmond, owner of Punkin Doodles in Havre, Mont. "They tend to like Melissa & Doug."

When asked specifically about puzzles for young children, 10 out of 10 retailers also named Melissa & Doug, for its floor puzzles in particular.

What's Fading

Twenty-five of 36 specialty retailers told

TD

monthly they simply don't carry 3-D puzzles.

"We have some in the back, but they don't sell well. We haven't ordered any in the last few years," said Owner Lois Colgin of The Toy Box in Augusta, Ga.

Chris & Debbie Thompson of Shenanigans Toys in Peachtree City, Ga., said they don't stock 3-D puzzles because "the big toy stores have them."

Manager Gwen Bowden of Doodlehopper 4 Kids in Springfield, Va., is one of 10 retailers who indicated the Sudoku craze may be slowing, too.

Sudoku is "still selling," she said, "but not like when it first came out."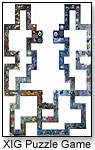 Roger Lee, co-owner of Olney Toys in Olney, Md., agreed that "there's not as much interest as there was six months ago. I think Sudoku is on its way out the door."

What's New

As for new and novel, one retailer mentioned Masterpieces Puzzle Co. (ToyDirectory) "They're new to us, and they've done very well," noted Diana Glasier, owner of Green Caboose in Stroudsburg, Pa.

On the manufacturing end, Founder Daniel Young of Paradoxy Products told

TD

monthly that the MOZANIAC Picture Puzzle System is "the most important and revolutionary advance in picture puzzles since the English printer John Spilsbury invented the jigsaw puzzle in the 1760s" because of its modular pieces that slide over and under one another to form four completely different images from the same six flat pieces.

Advancement in puzzles is even coming to the tween market, through GT² Fun & Games, which has combined puzzle construction and strategic game play in its story-driven XIG line.

To see which products retailers and manufacturers say are worth putting the pieces together, read on:







.

AD
---






.

AD
---






.

AD
---






.

AD
---






Made of 3- to 5-mm durable high-quality wooden board, this vintage car is easy to build or color as a three-dimensional decoration. It appeals to just about any age, from 6 to 60. Cost and service set China Towins apart in the marketplace, according to U.S. Marketing Director Jim Vuong. "We will stock in the United States and sell [at the] China factory price, about 70 percent lower than the current wholesale price, and can accept small-quantity orders." Launch date: April 2007.

.

AD
---






.

AD
---






This 800-piece puzzle portrays colorful rainforest flora and animals. Launch date: 2007.

.

AD
---






In this game, players help 12 whitewater rafters brave the rapids and make it safely back to their raft. The crew, fit with jigsaw pieces as a base, can face either the bow or stern of the raft, but there is only one correct solution for each direction. Players must help these rafters back in their raft or they will be all washed up. The game includes two puzzles in one and a boatload of fun.

.

AD
---






This colorful numbered cube challenges players to play Sudoku on all six sides of the cube as well as with horizontal and vertical lines going around, for a total of 18 puzzles. Also plays as traditional color cube, comes with a 48 page booklet of how to play, how to solve, history of Sudoku and 50 new 2 dimensional puzzles.

.

AD
---






.

AD
---






With the Maze Mat Block, children first remove the cross puzzle of the mats and assemble them. They then create a maze by plugging the castle blocks from the inside after building a square wall by inserting blocks into horizontal slots. Once the tunnel blocks are plugged, kids can play the maze game with the ball, creating new mazes by adding or removing blocks. The product helps with intelligence development, IQ improvement and emotional stabilization.

.

AD
---






.

AD
---






This puzzle is a fantastic find for fossil fiends. The three-dimensional dino is made from premium-quality birch wood. It's easy to assemble without tools or glue using the unique interlocking pieces. This premium line puzzle measures 23" long by 48" wide when complete. The puzzle kit includes sandpaper, a Pteranodon fact file and puzzle instructions in case you get stuck.

.

AD
---






Magnetic Travel Tangoes delivers all the fun of traditional Tangrams in a compact form. With magnetic puzzle pieces, an integrated play surface, wire-bound puzzle booklets and a snap closure, it's great for short trips, long journeys or even staying at home. It is also available in Object and People themes. Launch date: April 2007.

.

AD
---






This 46-piece great big puzzle is actually two puzzles in one. One side features a family of tigers, and the other has a zoo scene. In addition to being fun for children as young as 3, the puzzle also has educational value. The letters of the alphabet and the numbers 0 to 9 are hidden in the scenery, which is what makes the puzzle sneaky. Launch date: June 2006.

.

AD
---






What girl doesn't love to play dress up? "Ladies' Shoes" Scramble Squares brain teaser puzzle is the stylish answer for any fashion-conscious mother or daughter. Award-winning Scramble Squares nine-piece puzzles, in more than 120 exquisite styles, teach patience, perseverance, fine motor skills and critical thinking, and help maintain mental agility while providing stimulating entertainment.

.

AD
---
Catalog Request Form
THIS BANNER IS AN AD:
---
---