---
Toy Sleuth: 8-Year-Old Birthday Boy's Picks
Up-and-Coming Products That Are Fun, Strange and Birthday-rific
This month, Toy Sleuth ran his finds by a birthday boy turning 8. We asked him which ones he liked and which ones he wanted, and when you're turning eight, the whole world's your plaything ... in this case, literally.

Some direct quotes: "I want it for next birthday!" "Better than a bike! Better than anything!" "I want to try it on my brother." "Sharks are the coolest." What can you say?

Here's what's on his list: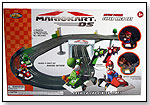 Mario's back, and this time in slot-car form with his buddy Yoshi (or up against Donkey Kong), he takes the virtual Mario Kart DS game and brings it into the real world. With twin controllers, a basic but exciting track layout, and all that is Mario, it's perfect for the younger car-race set. Lanny Halim, accounts manager for Nkok, explained that "they are selling well, to both kids of DS Nintendo age, and their parents who grew up on the older Nintendo 64 version. It's different because of its toyness ― it isn't the video game."

ToyDirectory Product ID#: 12122

(added 3/29/2007)

.

AD
---






We look down on clocks on the arm, on the cell phone, on the microwave ... but how often do we look down on a clock from deep in outer space? The Planetary Orbit Clock is a mini solar system (sorry, Pluto) that, when looked at from above, tells the time. Any other angle reveals the wonders of astronomy, or at least the "orbit of the spheres." (It isn't an accurate orbital representation, but it sure is fun to look at.) A Rakuten sales representative explained that they sold to "inquisitive kids" and "ardent adults." Science connoisseurs should love it.

ToyDirectory Product ID#: 12123

(added 3/29/2007)

.

AD
---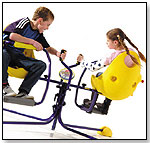 An amusement park inside the living room? That's what the Whurlybird is, in a nutshell. Safe, practical and speedy, this kid-powered whirling ride-of-fun seats two. Kids grab the handles and voila: 'round and 'round and 'round she goes, where she blows (chunks) nobody knows. "This thing is madness in a box," explained retail buyer Guy Sanders, who saw it at the British Toy Fair. "It's very portable, too — folding down and such." The kids do the powering, so their excitement is in direct proportion to their stamina.

ToyDirectory Product ID#: 12124

(added 3/29/2007)

.

AD
---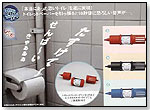 In America, we mostly know Sega for its video games, especially that master-of-disaster Sonic the Hedgehog. But bits and bytes are not the only thing they do — or should we say "do-do"? The Horror Summer Toilet Roll is being released only in Japan at the moment (Ms. Takamora, a representative of Sega in Japan, would not confirm nor deny its export to the U.S. of A.), but how can something this hilarious not make a big ... er, splash here? Making loud noises, explosions and shouts every time the TP is rolled, it's as surprising as it is annoying. And isn't that comedy: "something bad happening to someone else"? Release date: July 2007.

ToyDirectory Product ID#: 12125

(added 3/29/2007)

.

AD
---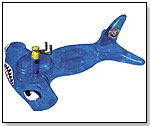 Sharks are the coolest. And sharks that shoot water? Discovery Kids' Battle Blaster Hammerhead is an inflatable pool shark complete with a 180-degree rotating water cannon (taking "ammo" right from the pool, so no need for refueling) and puts other water toys to shame. Discovery Kids reports good pre-orders for the summer season. This thing will turn any sunny day into Jaws: dum-dum ... dum-dum-dum-dum!

ToyDirectory Product ID#: 12126

(added 3/29/2007)

.

AD
---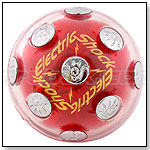 Distributed by Firebox.com Ltd., Shock Ball takes Hot Potato to another realm. This tennis ball-sized red danger orb made from soft PVC with little metal plates on it glows green from the inside until ... ZAP! The light randomly turns red, and a wicked electric shock courses through whoever has the ball in his hand. There follows much screaming and lots of laughter ... by everyone but the shocked. This is the hippest thing around London. The rechargeable ball makes a great party game. Or, for those of a more masochistic bent, it can be played alone. Rob Fleischer, who does publicity for distributor Firebox, said "a battery version of Shock Ball will be shipping in late summer, early fall."

ToyDirectory Product ID#: 12127

(added 3/29/2007)

.

AD
---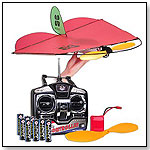 This radio-controlled airplane/kite that runs 10 to 15 minutes on a rechargeable battery with a four-function controller has 14 LED lights for night soaring and receives the birthday-boy seal of approval. HuaiXing is known for its lightweight, cutting-edge RC aircraft, and the Air Kite is no exception. Salesperson Darlene Serville at the Memphis, Tenn., Toys "R" Us thinks this would be a big seller: "We have a lot of guys who like the radio-controlled airplanes, but sometimes they're too complicated for the kids."

ToyDirectory Product ID#: 12128

(added 3/29/2007)

.

AD
---
Writer's Bio:
Mark Zaslove is an entertainment industry veteran in developing content (writing, directing and producing television and feature films) for the major studios, including Disney, Universal and Warner Bros. A two-time Emmy Award winner for writing and recipient of the Humanitas Prize (for writing uplifting human values in television and movies), Mark is also Head of Content Development for Nice Entertainment.
Read more articles by this author
THIS BANNER IS AN AD:
---
---