"You have to have different expectations for this show." — Bob Muniz, Bazoongi Kids
Despite its designation as the country's largest regional toy and hobby show, the WTHRA show in Pomona, Calif., in March didn't have many exhibitors talking "big" this year. Most agreed there was less foot traffic than in 2006, although many participants were still able to make worthwhile connections.
See coverage of the WTHRA show from 2010.

Dedicated Parties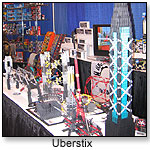 On the whole, the show tends to be more about quality than quantity, said attendees. Brian Thille of Westminster (ToyShow), for one, noted that it's important for him to come and work with a sales rep group — for whom the show largely exists.

"It's never been a real big order-writing show," added Jeff Alward of Playground Enterprises, "but we like to be here because some of our best customers are in this area."

Owner Richard Kutchick of Grand Slam Toys & Cards in Kodiak, Alaska, attends Pomona every year, with "all of the other Alaskan folks."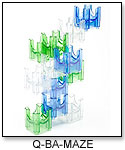 "It's the only place I go," he told TDmonthly Magazine. And this year proved successful: "I need to expand. There was a lot of good stuff there."

The regional angle attracts many, despite the large number of other annual trade shows. For Infinitoy, Greg McVey told TDmonthly, attendance is "more of a political thing than anything else" — a chance to support Western groups within the industry.

Slacking Sales

Unfortunately, that support doesn't always go both ways.

A first-timer at the show, Don DeWitt of U.S. Toy Co. was disappointed to learn that, contrary to what his company had been told, the show is nothing like the American International Toy Fair.

"We can't do shows like this," he told TDmonthly. "We can't have 30 feet and spend $10,000. It's nothing like the New York show."

John Thompson of Illumination Arts Publishing considered it "one of the slowest shows [he's] ever done." And one exhibitor, approaching the end of day three without a single sale, called it "dreadful."

Stories of Success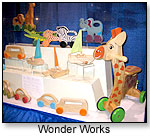 A few companies, nonetheless, were pleasantly surprised.

"We're actually having a good show, which is bizarre considering the amount of people here," said President Brian Ledig of MK and Company, who by the third day had written 14 or 15 orders for his wooden model Timberkits — in contrast to the neighboring booths he said had penned two or three.

Being near the entertainment industry also proved a big plus: "The musicians of Hollywood Bowl came in and bought a lot of drummers," he said.


For newcomer Cordelia's Corner, the show provided an opportunity for industry-friendly critique before the company's launch of a girls' dress-up line later this year. "We've gotten lots of business cards and lots of feedback," Owner Rebecca Blake told TDmonthly.

Varying opinion on the show's worth invites uncertainty, but as Bob Muniz of Bazoongi Kids pointed out, it's essentially about being realistic.

"You have to have different expectations for this show," he said. "You get to spend time with customers."