---
Dolls: A Lee Middleton Trio
Three Cuddly, Collectible Dolls Earn Highest Rating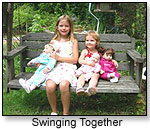 This month,

TD

monthly Magazine's Dolls Roundtable participants reviewed three age-specific dolls by Lee Middleton: Bailey for ages 6 months and up; Reagan for ages 2 and up; and Tiny Cheer for ages 4 and up. Beyond the open packaging that allows buyers to feel the babies' soft bodies, smooth skin and silky hair, participants loved the dolls' contemporary clothing and realism, as well as their price point and collectibility. The three baby dolls elicited lots of cuddles, admiration and endless play … all leading to a perfect score.

Roundtable participants included: Ruth Mandt with granddaughter Paige (6); doll collector Teresa Bannister with daughter Samantha (2); Barbara Smith with daughter Amanda Forrest and granddaughters Sydney (7), Savannah (6) and London (18 months); Kim Hobbs, owner of Hobbs House of Dolls in Marietta, Ga.; and doll collectors Brenda Oxford and Virginia Davis.



TD

monthly rating for Bailey:


TD
monthly rating for Reagan:

TD
monthly rating for Tiny Cheer:


PLAYABILITY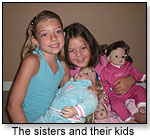 Ruth Mandt loved the dolls' lifelike expressions, and the Forrest girls appreciated that the dolls resembled them: Tiny Cheer was tall like Sydney, Savannah's doll had brown hair like her, and baby London's doll had no hair at all.

"Mommy, these are the best dolls ever," they told their mother, Amanda, who was also impressed with the dolls' realism and lightweight build. The girls also liked that "they have clothes and tennis shoes like ours."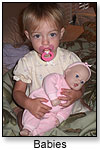 They found the sizing perfect, as the dolls fit snugly into each child's arms. The girls kept them close night and day, even begging to take them to day camp.

"The kids that saw them loved their expressions and especially the clothes made for today's generation," retailer Kim Hobbs added.

Paige liked Tiny Cheer's hair and Reagan's shoes, and was taken with Bailey for her cuddly nature. Samantha Bannister wanted to push Reagan and Bailey in the stroller, pull them in the wagon, swing them and give them bottles.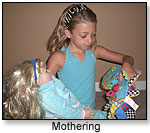 VALUE

"The dolls are so beautiful and they have educational value, too," Mandt told TDmonthly. "They teach the children to be loving and nurturing. They are almost like real babies to care for."

Hobbs, Barbara Smith and collector Brenda Oxford all commented that the dolls are great for the price, and Hobbs forecasted their popularity going into the holidays.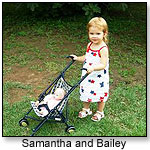 "They had some production problems in the beginning, but that all seems to be worked out, and I think these dolls will be the big seller this holiday season," she said.

COLLECTIBILITY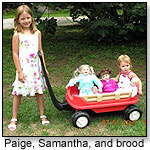 All four collectors agreed that these babies, though ideal for playtime, would also make nice additions to their collections. Out of the three, Virginia Davis said she prefers Reagan because of the doll's resemblance to her granddaughter, but Tiny Cheer seemed to be the overall favorite.

"I am going to have to buy one like Tiny Cheer, the blond doll," commented Smith. "I have collected Middleton dolls in the past and this one seems to fit right in with them."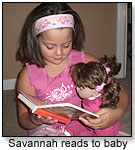 Oxford agreed that these dolls live up to the Middleton name, and Bannister commented that they're the perfect for starting a doll collection for her daughter.

POSSIBLE IMPROVEMENTS

Although no one had any suggestions for improving the dolls themselves, Davis suggested to

TD

monthly that an accompanying pet, book or bottle might be a good addition, since children love accessories.

Writer's Bio:
Virginia Davis is a freelance writer who is considered an expert in the area of dolls and collectibles. She has written hundreds of articles on dolls and toys, as well as other subjects, for numerous publications. She lives in Georgia.
Read more articles by this author
THIS BANNER IS AN AD:
---
---