---
Preschoolers: Is it Noise? Or Music?
Kids Have a Samba Party and Create Their Own Tunes
"They … wanted to 'perform' for anyone who stopped by the house." — Heather Jones

For this month's Preschooler Roundtable, colorful toys and resusable packaging won praises from parents, but uninspiring peripheral materials — like a CD and a pamphlet — brought disappointment. Overall, the colorful presentation and durable plastic construction of the instruments reviewed earned high marks.

Participants were World Bank policy advisor Gail Richardson with Alexander (7) and Jessica (5); former finance executive turned stay-at-home mother Shannon Harris with Tripp (5 1/2); stay-at-home mother Heather Jones with Reece (8), Cameron (6) and Meg (4); sales executive Stephanie Kirby with Sarah (6) and Emma (5); and writer/editor Elise Yousoufian with Aaron (6) and Hanna (6).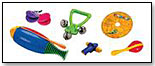 Samba Party by HOHNER
(

Watch Video)
TD
monthly rating:





What It Is: A set of five instruments: maracito (a small maraca), castanets, guiro (noise maker) with stick, tambourine and whistle — all made of brightly-colored plastic in sizes that fit children's hands and mouths, and packaged in a clear plastic case with a CD.

What the Parents Thought

Every reviewer commented on some aspect of how the instruments awakened their children's creativity and curiosity. Kirby's children "started to make up a band with songs."

Parents praised Samba Party's packaging, with a few summing up the reactions of all. The instruments struck Kirby as "bright and interesting to the kids." Richardson loved that the heavy plastic bag could be reused and would make it a "greater likelihood" that "the toys get put away."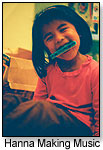 Yousoufian liked that the instruments led her children to play cooperatively, not competitively. For example, Hanna might play a harmonica and Aaron the tambourine. Yousoufian also liked that her children played the instruments in different ways —perhaps in ways not intended. Aaron used the stick for the guiro to make music from the castanets.

Jones observed that the instruments could build self pride. She felt that her children learned "to appreciate their own ability to make music" and "to listen to and appreciate different kinds of music."

How the Kids Reacted

Several of the children liked the variety of instruments for their unfamiliarity. Harris, who said they figured out what some of the instruments were by process of elimination, said her son "enjoyed the different sounds and making a song." Jones's three "enjoyed trying out all the instruments and especially liked experimenting with … [the] less familiar." They also put on a show: "They were especially interested in seeing how loud they could be and wanted to 'perform' for anyone who stopped by the house," Jones said.

The Samba Party took Richardson's children from a musical microworld to a bigger place, where she found they "practiced negotiating and sharing as they tried to decide who was going to use what instrument."

How to Improve It

Reviewers gave the instrument set high marks but had suggestions for the CD. Tripp danced while making music, but he may have been unusual in this regard. Richardson suggested "a quick introduction on the CD to get the kids excited about dancing or using the instruments. … They could not really make the connection between the CD and the instruments." Yousoufian echoed, "I'd drop the CD and lower the toy's price, or substitute a book with playing suggestions."

---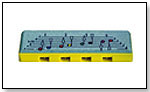 Beginner's Harmonica by HOHNER



TD

monthly rating:





What It Is: A four-holed instrument made of hard plastic and metal that comes in a plastic sleeve and is packaged with a music sheet and instructions for how to play a few favorite children's songs.

What the Parents Thought

Kirby liked that the harmonica's package included a music sheet and directions. Richardson underscored how easy it is to manipulate this harmonica. Although its packaging states it is intended for ages 6 and up, her 2-½-year-old niece was able to hold and play the instrument.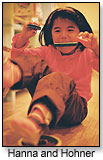 Yousoufian was impressed with the harmony Hanna produced. It is easier to clean the plastic outside of this instrument than it is Aaron's and Hanna's metal and wood harmonicas, she said, and the holes are bigger and easier to blow into than those on Hohner's better-known Marine Band Harmonica. Unlike the Marine Band, the 502 is light and beveled, which make it easy for Aaron and Hanna to hold in their mouths.

How the Kids Reacted

Aaron liked that the harmonica makes loud sounds. Yousoufian didn't get the connection, but for some reason, after playing the harmonica Aaron made air guitar moves; clearly, he related the two as instruments.

Harris could see that Tripp "liked the sounds he could make," and noted that he "started using [the harmonica] as a kazoo and ended up making songs."

How to Improve It

The harmonica's case, which Harris said is "nothing special," might be jazzed up somehow. The pamphlet that comes with the harmonica promises songs and playing activities, but only two activities — singing and chanting — are suggested. Yousoufian expected and would have liked some other less obvious suggestions.

Writer's Bio:
Elise Yousoufian engages in paid work as a writer/editor on complex negotiations for airplane maker Airbus. Her two children completed four years at a Montessori school and enter first grade this year at the local elementary school. She finds watching Aaron and Hanna one of her life's highlights.
Read more articles by this author
THIS BANNER IS AN AD:
---
---